Indo-Thai-Afghan' International show kicks off at Kisan Bhawan
A three-day lifestyle, fashion and home decor exhibition 'Indo-Thai-Afghan' International show kicked off at Kisan Bhawan, Chandigarh on Saturday.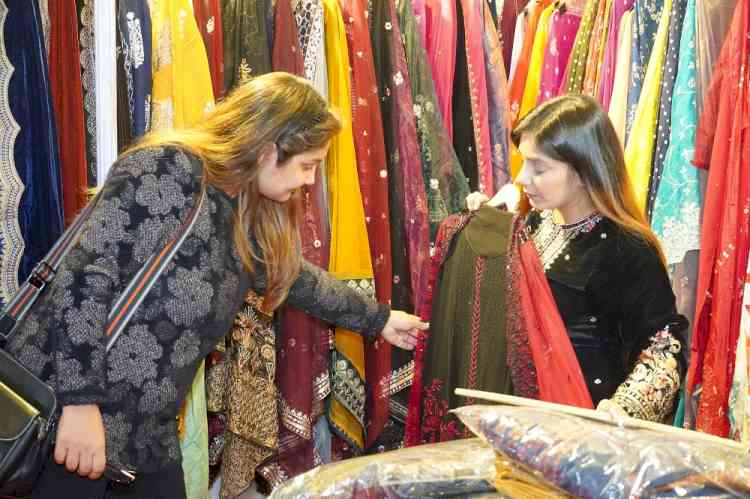 Chandigarh, December 3, 2022: A three-day lifestyle, fashion and home decor exhibition 'Indo-Thai-Afghan' International show kicked off at Kisan Bhawan, Chandigarh on Saturday. The mega fair is being organised by The Global Events, a city-based organisation, and will be on from December 3 to 5.  
More than 50 exhibitors across the country and abroad are exhibiting their inimitable collections of designer wear, Pashmina suits and  shawls, jewellery, footwear, wedding wear, handi-crafts, home décor items, herbal products, dry fruits from Afghanistan and more.
Rattandeep Singh Walia, Director of The Global Events said, "Keeping in mind the winter and the upcoming wedding season, we have curated an exhibition which is a one-stop-destination for all. This time, we have brought exhibitors from across the country and also abroad -mainly Thailand under one roof who are displaying a wide range of products such as hand crafts, designer suits, Thai herbal products and apparels, home décor and jewellery items etc. And all the products are available at very reasonable rates."
The main attraction for the visitors at the exhibition are the stalls from Thailand. Thai exhibitors have put up their stalls which are attracting eyeballs due to authentic Thai products such as herbal oil and toothpaste, ladies' accessories, bags and much more.
Sharing the details of a Thai herbal medicinal product 'Gold Cross Oil' which is highly effective on all joint pains, a Thai exhibitor said, "'Gold Cross Yellow Oil'  is a special oil because it contains organic herbs and can be used for all types of body pains." Given the problem of post viral fever joint and muscular pains  being witnessed this season this oil is a Godsend.
Another attraction at the exhibition is 'La Pashmina's' stall owned by a female entrepreneur from the nomadic community of Changpas from Changthang, Leh Ladakh. Committed towards supporting vulnerable communities and women throughout the country - the label showcased an exclusive collection of handmade cashmere Pashmina shawls, suits and handicraft items by local artisans of Ladakh.
Moving further - handbag label 'Titli' showcased a range of beautiful coloured handbags crafted by organic products.  Moreover, the Jewellery items were not far behind the other products in any way as the 'House of Maasa' showcased exclusive jewellery items for the upcoming wedding season.  Anada Jewellery from Thailand also brought high quality and unique designs made from original pearls in Thailand.
Promoting the rich culture of Phulkari, Gagandeep Kaur, grabbed the limelight by displaying Phulkari designed Laptop Sleeves and Bags, Handbags, Specs Case, Mini Trunk set, Multipurpose Box, Table covers, Table Runner with Mats Macbook Covers, Passport covers and Suits, Sarees, Dupattas etc.
Other attractions are Lucknowi Chikan Embroidery Fabric and Suits, Jaipur Cotton Kurtis in vibrant colours, Home Furnishing, Bed-sheets and home décor items.