Importance of healthy diet discussed at webinar by PUAA
Webinar held on 'Eat Well to Live Well'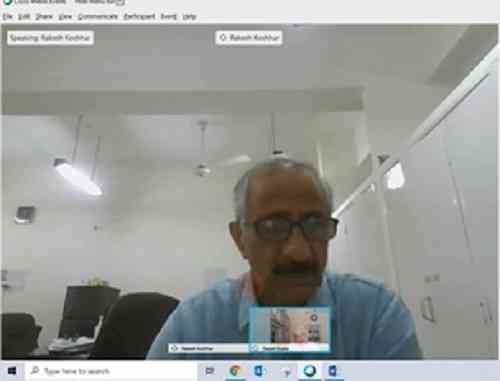 Chandigarh: Panjab University Alumni Association organized a Webinar on 'Eat Well to Live Well' by Dr. Rakesh Kochhar, Professor and Head, Department of Gastroenterology, Sub – Dean, Research, PGIMER, Chandigarh, today .
Prof. Deepti Gupta, Dean Alumni Relations, welcomed and introduced Dr. Kochhar who has a rich experience of 42 years with PGIMER. She informed that the webinar was aimed at demystifying diet fads and reinforcing the importance of healthy eating. 
Dr. Rakesh Kochhar gave a very informative presentation on various aspects of diet, weight and health like how to chew food, what is a healthy weight, intermittent fasting, calorie count of popular food items, myths and facts about diet, food poisoning, milk intolerance, energy intake and energy expenditure to name some.
Towards the end there were many interesting questions from the participants. Dr. Kochhar answered them in detail which shed more light on various myths about food and cleared everyone's doubts. The remaining questions will be sent to Dr. Kochhar by email. A lot of appreciation and thanks poured in on the chat from the participants for Dr. Kochhar and PUAA. The participants even requested for another session with Dr. Kochhar which PUAA will try to organize.
Prof. Deepti Gupta proposed a vote of thanks to Dr. Kochhar and concluded the event. The recording of the event will be made available on request.