IIA Ludhiana Centre, Punjab Chapter and Lovely school of Architecture and design jointly organized World Earth Day 2021
Ar. Sanjay Goel , Chairman IIAPC and  Director Ludhiana Smart City Ltd was the keynote speaker for the session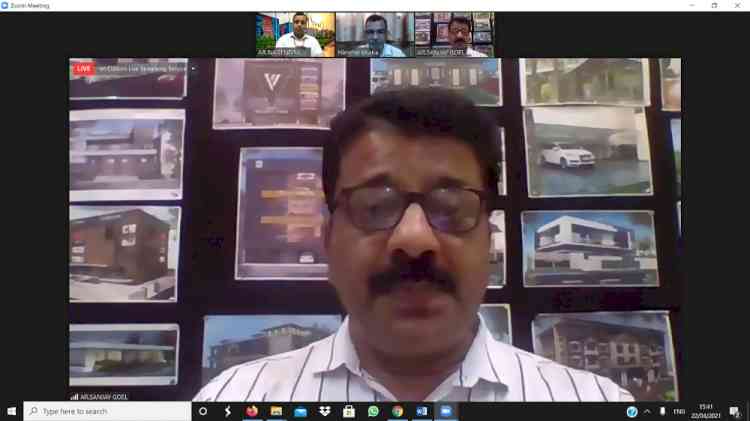 Ludhiana: 
IIA Ludhiana Centre, Punjab Chapter and Lovely school of Architecture and design jointly organized World Earth Day 2021. Ar. Sanjay Goel , Chairman IIAPC and  Director Ludhiana Smart City Ltd was the keynote speaker for the session.
He shared his detailed views related to "Restore the Earth" that was the theme of the World Earth Day 2021. He excellently correlated World Earth Day 2021 theme with present covid-19 scenario worldwide and explained in detail that together we have the power to Restore Our Earth.
World Earth Day 2021 theme is Restore Our Earth, which focuses on natural processes, emerging green technologies, and innovative thinking that can restore the world's ecosystems. In this way, the theme rejects the notion that mitigation or adaptation are the only ways to address climate change. It is up to each and every one of us to Restore Our Earth not just because we care about the natural world, but because we live in it. We all need a healthy earth to support our  livelihoods, health and survival, and happiness. A healthy planet is not an option — it is a necessity.
He asked the masses to respect the mother earth always and  our  duty is to minimize air, water and noise pollution on earth. During the past few decades  all of us were least bothered  about the pollution  in context of mother earth and present pandemic of covid teaches all of us to respect the nature.
This session was attended  by architects, engineers and architecture students. Welcome address was given by Prof Nagendra Narayan HOD  Lovely school of Architecture and design and vote of thanks was presented by by Prof Himmat Bhatia.