Glaucoma cure now possible: Dr Varun Baweja 
Introduces new iStent inject surgery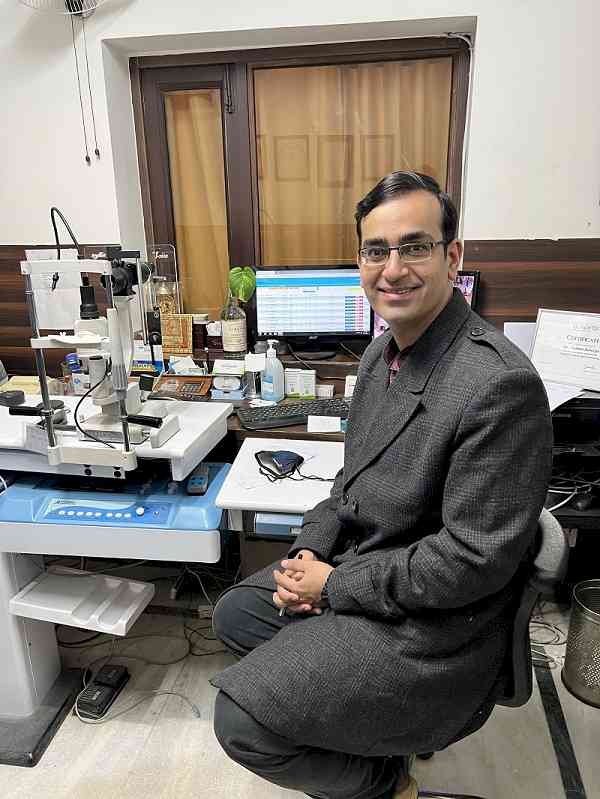 Ophthalmic surgeon Dr Varun Baweja.


Roopnagar, November 30, 2021: A major stride has been made in the field of ophthalmology - the medical specialty dealing with diseases of the eyes. Dr Varun Baweja, an ophthalmic surgeon from Punjab has introduced a revolutionary iStent technique to cure Glaucoma in the eyes, similar to cardiovascular stents. Dr Varun Baweja, a pioneer in the eye stent technique, is the first eye surgeon of India to get a certification from England for carrying out the iStent inject surgery. This eye surgery is used to treat Glaucoma disease, commonly known as 'Kala Motia'.
 
"The best thing about this path breaking surgery is that the patients get the same medical intervention sitting in India which normally is available abroad at a heavy  cost." Said Dr Baweja, a Consultant Ophthalmologist at the Baweja Multispeciality Hospital in Punjab's Roopnagar near capital Chandigarh. It is pertinent to state that Dr Varun got his poster published in the American Academy of Ophthalmology Journal in 2009 & has performed more than 5000 eye surgeries in a short span.
 
The heartening part is that this technique offers a solution to glaucoma which is a group of eye conditions that can make a person go blind as the disease damages the optic nerve, which is crucial for good vision. The damage is caused by an abnormally high pressure in the eye. It is one of the leading causes of vision loss  in old age.
 
Dr Varun Baweja, further said, "People suffering from glaucoma often have to go through painful treatment procedures like invasive surgery. Other treatment options in India include eye drops and medication. I have brought in a new technique where a stent is placed in the eye to release the excess pressure in the eye. It is similar to the cardiovascular stent. It sits in the path of the obstruction creating a channel for movement of fluid out of the eye without resistance. When blood vessels get clogged, iStent creates access to vessel flow."
 
Dr Baweja informed that while iStent is a highly innovative technology, it works in an  elegantly simple way. Dr Baweja explains, "If you have glaucoma, over time the eye's natural drainage system becomes clogged. iStent creates a permanent opening through the blockage to improve the eye's natural outflow. Restoring this mechanism lowers and controls pressure within the eye. I have introduced this new technique in India and I am glad that my patients have been really satisfied with this procedure and results." 
 
Dr Baweja shares that the most common type of glaucoma often has no symptoms other than gradual vision loss. Angle-closure glaucoma, although rare, is a medical emergency and its symptoms include eye pain with nausea and sudden visual disturbance.
 
It is noteworthy that the first eye stent injection procedure for glaucoma was successfully carried out on a 45-year old patient from New Delhi at the Baweja Multi Speciality Hospital by Dr Varun Baweja. Dr Varun will be travelling back to the UK next month to further refine this technique. He will be carrying out operations in Punjab in March 2022.