Five J&K teachers forced out of Kashmir in 1990 fight lonely battle for dues; two have died (Lead)
It's been a long lonely fight for five septuagenarian Kashmiri migrant teachers who have been demanding their rightful dues -- salary, gratuity and pension.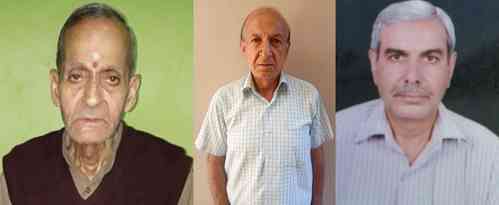 Source: IANS


Deepika Bhan
New Delhi, Oct 1 (IANS) It's been a long lonely fight for five septuagenarian Kashmiri migrant teachers who have been demanding their rightful dues -- salary, gratuity and pension.
With IANS taking up their cause, help and assurances have started pouring in.
The Congress's Rajya Sabha MP, Vivek Tankha in his post on X said, "Sad affairs for KPs on J&K… our unsung people!! And I am sure there must be many others."
He said, "The community has been struggling for survival. Even though the nation empathises with them, precious little has been done for them and IANS story has revealed that the old and senior Kashmiri Pandits continue to be unsettled." The Congress leader assured that he will take up the case.
Reacting to the apathy that the elders have been facing, actor Bhasha Sumbli ('The Kashmir Files') has said: "This is the bitter truth. The elderly Kashmiri Pandits were the hardest hit by the forced exodus. The struggle of the five teachers reveals the apathetic attitude of the system. It breaks hearts. Nobody cares for them. Your story reveals this."
For Onkar Nath Ganjoo, one of the five teachers who have been seeking justice, it's a tough battle against an apathetic system. He says: "We have faced so many problems. Nobody is listening to us and no one cares. We have given our prime to the school. We have been left to our fate. It's almost the end of my life. Two of my best friends and colleagues have passed away."
"Hope good sense prevails and the education department listens to us and takes decisions in our favour," says retired teacher Ashok Kumar Kaul. 
The five septuagenarian Kashmiri migrant teachers and their families have been silently and diligently fighting to get what they claim is their due -- salary, gratuity and pension.
The elderly and retired teachers had almost given up on their demands, but the abrogation of Article 370 and the application of Central laws in J&K, gave them the hope. The struggle, however, has not decreased as they say the system is slow and apathetic.
With no support from any quarter, the retired teachers from a prominent public school, National High School, Karan Nagar in J&K's Srinagar, have been struggling to get their dues.
In this era of social media campaigns when nothing escapes public scrutiny, the case of the five Kashmiri Pandit teachers has gone unnoticed.
Fighting ill-health, government apathy and with no civil society to take up their case, the elders have nevertheless not given up on hope. The only fear for them is not the official indifference, but the life ticking away. Two of their colleagues have passed away and the remaining three are now hoping that before life goes away, justice comes their way.
Onkar Nath Ganjoo, 79, Shambu Nath Kachroo, 76 and Ashok Kumar Kaul, 69, are the three out of the five who first took up the fight. The other two included M.K. Dhar, the principal of the school when forced exodus of Kashmiri Pandits took place, passed away in 2021 at 82; and Roshan Lal Bhat, who passed away early this month at 74.
They were among those who were forced to flee Kashmir in 1990 when terrorism struck the valley. They were teachers in National High School, Srinagar. All these teachers had put in a minimum of 25 years of service in the school and all were very popular among the students. Dhar had received the J&K government's Best Teachers Award in 1980.
As most of the teachers had received threats and were advised to leave by their good Muslim friends and neighbours, and the absence of security and administration, the Kashmiri Pandits had no option but to flee, leaving their job and properties. Most of those who fled the valley were hopeful of returning soon, but the situation never improved and days became years and then decades. The return never happened.
After initial years of struggle for survival outside Kashmir, the teachers settled in places where their children took up jobs. In the mid-1990s as the situation improved in the valley, local students and teachers returned to National High School, but for these teachers it was never the same.
Having crossed the retirement age, the teachers started their fight for pension, which went on for some years and finally the school management took a sympathetic view and allowed monthly pension out of PF-Fund.
The amount varied from a mere Rs 700 to Rs 1000 per month. But this meagre amount provided the teachers a world of happiness. It was not just money, but an acknowledgement of their decades of hard work which had made the National High School one of the most sought-after schools in Srinagar. It was a school where J&K's late Sheikh Mohd Abdullah and then his son Farooq Abdullah were regulars at annual functions, and when the forced exodus took place, the school had a roll of around 3,000 pupils.
The monthly pension was never regular, often the misses were for months together. And it remained only between Rs 700-Rs 1000.
In 2018, the school was taken over by the J&K government and converted into Heritage school owing to its near 100-year-old existence. The teachers had hoped that their due will be taken care of. But nothing happened. The once-in-a-while payment of Rs 700-1000 also stopped. Letters and pleas fell on deaf ears. The administration was not listening and nobody cared.
Finally, a Delhi High Court lawyer Ramesh Wangnoo took up their case and has been fighting ever since. He said, "I was so moved by their story that I decided to help them pro bono. Nobody was ready to even listen to them. I fought with the system and managed the administration to acknowledge the PF - arrears till the time the school was taken over which they got last year. The sum was meagre, a few thousands for all of them. That's it. Now I have been fighting for their salaries till superannuation & gratuity besides a regular pension for them. The education department's system is so pathetic that the work on their file No. 470327 & L-G grievance ID No. 999003982805 is going on at a snail's pace.
"Two out of these five have passed away waiting for justice to be done. The other three are also very senior and at the sunset of their lives. I will fight as much as I can. The wives of the other two deserve family pension," says Advocate Wangnoo.
"After the abrogation of Article 370, all Central laws are now applicable in J&K. How can the dues be denied to them, even the gratuity. The government owes them. The teachers are not demanding any favour. It is their legal and rightful dues," adds Advocate Wangnoo.
"Hope Education department wakes up fast and decides their case on top priority as the matter has gone up to the level of Principal Secretary Education Alok Kumar and mails are also being forwarded to L-G secretariat Grievance redressal cell & Advisor to Governor Rajeev Rai Bhatnagar. Besides this, the matter is also endorsed by MP Dr. Jitendra Singh and Under Secretary Rajender Kumar Dutta of DOPPW. Hope the Education department will now wake up and decide the case at the earliest without any reminders," adds Wangnoo
As months go by, and two teachers already have passed away, for the rest of the three, it's a race against time.
 (Deepika Bhan can be contacted at [email protected])