First WISE interactive lecture "Reaching for the Stars: My Voyage" by Prof Manjit Kaur
She spoke at length about various challenges faced during her journey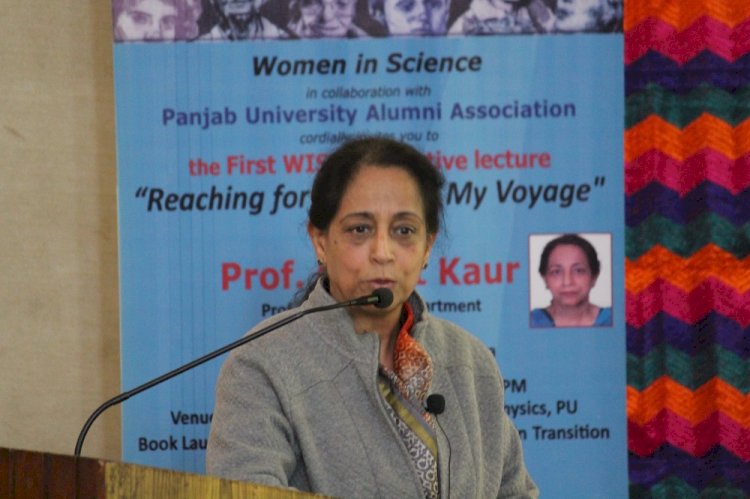 Chandigarh: Women in Science in collaboration with Panjab University Alumni Association hosted the first WISE interactive lecture  titled "Reaching for the Stars: My Voyage" by Prof. Manjit Kaur, Prof. (Rtd) Physics Department Research Investigator, CMS experiment at CERN, Geneva, here today. She spoke at length about various challenges faced during her journey and the motivation with which she carried on with her mission. She said that fundamental science is essential for solving global problems and the contributions of women scientists should neither be forgotton nor undermined. She concluded her talk by referring to Marie Curie saying "I was taught that the way of progress was neither swift nor easy". 
The lecture series is spearheaded by Prof. Deepti Gupta, Dean (Alumni), Prof. Nishima, Prof. Jagdeep Kaur and Prof. Archana Bhatnagar to celebrate women achievers in the field of science. Gracing the occasion was Prof. Manjit Kaur, a force to reckon with in the field of physics. With over 1300 publications, 8000 citations and supervising 13 PhD's, Prof. Manjit Kaur has also served as member of Syndicate and Senate, Panjab University.
This was also accompanied by the launch of the book titled "Phulkari from Punjab: Embroidery in Transition" authored by Anu H. Gupta and Shalina Mehta. The book traces the history of Phulkari through the ages: the craft, the decline, the revival. It highlights the agonies of lost finesse and compulsions of commoditization that the practitioners of the art shared with the authors. It also shares instances of revival and innovation, narrates the robustness with which Phulkari has re-entered imagination of designers and details how this has helped transform lives of hundreds of domestic craftswomen.