FIR against trader and supplier found with unauthorized sale of pesticides in Ferozepur  
Agriculture department inspects premises of pesticides and seeds dealers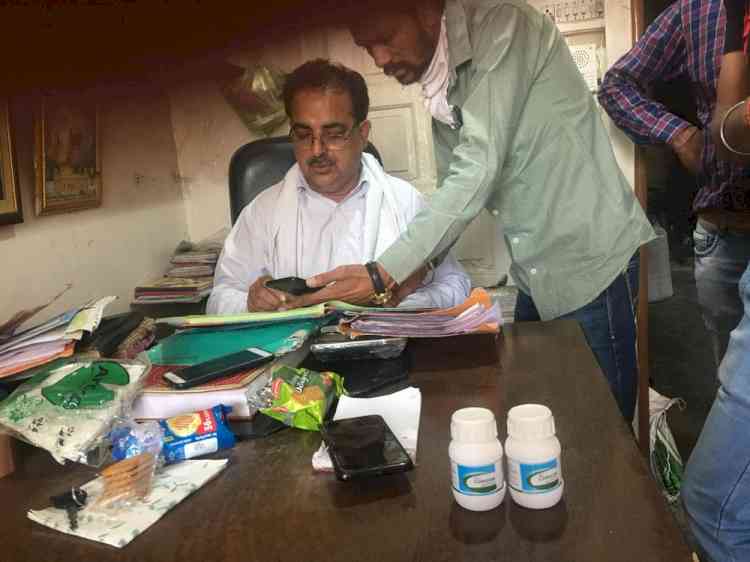 Ferozepur: Acting sternly against the unauthorized sale of pesticides and insecticides, the agriculture department has got an FIR lodged against a supplier and trader after conducting an inspection at the premise of a trader at Gober Mandi, Ferozepur. 
 
Divulging the details, the Chief Agriculture Officer Dr. Gurmail Singh said that the Agriculture and Farmers' Welfare department on Thursday had conducted an inspection at M/s. Harish traders, where Agriculture development officer Charanjit Singh along with his team recovered 23 plastic bottles of Corgon (a herbal bio insect control) without any manufacturing license number and CIR number. Dr. Guramil Singh further added that during the preliminary investigation the owner of Mrs. Harish traders revealed that pesticide was supplied by Om Kheti Center, Ghallkhurd. 
 
He said that the department has seized the recovered bottles of pesticides along with other documents and the sample of the material has been sent to the testing lab for quality test. The chief agriculture officer further added that the above-mentioned pesticide was being sold as a herbal bio insect control through misleading information. Subsequently, Dr. Guramil Singh said that the Police department was requested to register FIR after which a case under section 420 of IPC has been registered against the supplier and trader. 
 
Reiterating the firm commitment of the state government to safeguard the interests of the farmers, the Chief Agriculture Officer said that the department was making efforts to curb the sale of duplicate spurious pesticides besides working toward price control n the district under Tandarust Punjab Mission. He said that the officers of the department have already been directed to plug the sale and storage of spurious pesticides to ensure that farmers were facilitated at every cost. Dr. Gurmail Singh said that this campaign would continue in the coming days to keep a check on the sale of spurious pesticides.