Dignity through Science and Technology
Global Dignity Day celebrated at Science City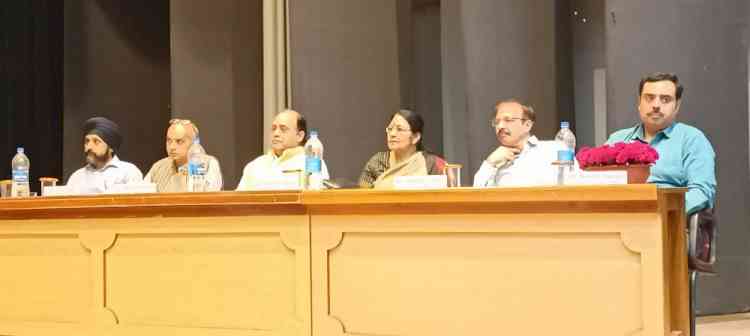 Kapurthala, October 19, 2022: Pushpa Gurjal Science City celebrated Global Dignity Day in the collaboration with Vigyan Parsar by organizing a seminar on "Dignity through Science & Technology".  Around 250 students and teachers from all over Punjab participated in the program. The theme of this year's celebration was self-respect, ambition, hard work, a feeling of accomplishment. 
Dr. Neelima Jerath, Director General, Science City during her introductory remarks said Dignity embodies the belief that everybody has equal worth and is entitled to be treated respectfully. Global Dignity Day is an initiative to educate and inspire the young to take leadership to bring dignity across the social spectrum including race, gender, ethnicity and nature of work. Science and Technology can be a great equalizer by providing equal access to goods & services and opportunities to make life comfortable and richer in experiences. The essence of how S & T contributes to society is the creation of new knowledge, and then utilization of that knowledge to boost the prosperity of human lives, and to solve the various issues facing the society.
Dr. Nakul Prashar, Director, Vigyan Prasar was the chief guest at this occasion. During his address, he said that it is essential that every human being has equal right to live with liberty and dignity on the planet earth. Further, the accomplishment of dignified life for all must be the prime responsibility of humans and it would be possible if we use Science and its applications for the benefit of the society. Today's youth can become change agents and role models to move forward. It is up to us, today, to help them step into those roles with compassion, understanding, and tolerance for all human beings, he added.
Speaking at the occasion, Dr. B.K Tyagi, former Scientist F, Vigyan Prasar said modern science and technology is contributing towards human dignity allowing people to lead healthier, wealthier and even happier lives by reducing disease and disability and opening up new opportunities for thought and action. Several Technologies have been developed in order to protect and safeguard human dignity, for eg., the expected advances in biotechnology focus on gene therapies to correct heritable defects, or that nanotechnology promises tiny machines that could monitor our health or repair cell damage from the inside, or that artificial intelligence and robotics are being developed to enhance the mobility of those with missing or non-functioning limbs.

Dr. Rajesh Grover, Director Science City present at the occasion said that Science Technology & Innovation can generate solutions for everyday life, improving education and increasing the quality of our lives and maintain dignity of human life.
A MOU was also signed  between Pushpa Gurjal Science City and Vigyan Parsar to organize jointly the "scientific programs and activities". Dr. Indjerjit Singh Registrar Vigyan Parsar and Dr. Namish Kapoor Scientist-E Vigyan Parsar were also present at this occasion. 
 
On this occasion Winners of Art in Science competition were also awarded. In a competition Yangchan Dollker and Preeti Gupta from HMV College Jalandhar received first and second prize. Sanamdeep Singh from SPPS Convent School won the third prize.   A caption contest was also organized on this occasion and first prize  received by Rashmi from Govt. Senior Secondary School Dhapai, second prize  by Supreet Kaur from SPPS Convent School Begowal and  Manutasv Singh Badesha from Gems Cambridge Batala  third.