DCJ Bikers Club found in Doaba College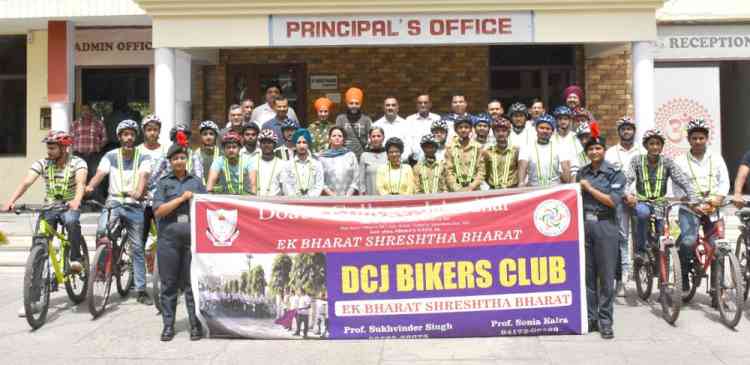 Jalandhar, May 21, 2022: Doaba College formed DCJ Bikers Club under the scheme of Ek Bharat Sarvshreshatha Bharat. Jagwinder Singh- Renowned Paracyclist of Punjab graced the occasion as Chief Guest, Parveen Kamal and Ragwinder Bhatia- Alumni and Ace Swimmers, Ashwani Kumar-PRO, Pushpa Gujral Science City, Rohit Sharma-President Hawk Riders and Jaswinder Pawa-Bike Masters as Guests of Honour. The dignitaries were accorded a hearty welcome by Principal Dr. Pardeep Bhandari, Coordinators Prof. Sukhwinder Singh, Dr. Suresh Mago, Dr. Simran Sidhu, Staff & Students.
Principal Dr. Pardeep Bhandari said that DCJ Bikers Club is formed to bring about an awareness in amongst students and citizens of the region about benefits of cycling in creating conducive environment.
Jagwinder Singh- Paracyclist said that right from his childhood days he had learned to overcome his physical disability and by the dint off his self-confidence and inner strength he learned to paddle cycle to great a distances across the state and country to successfully create a bench-mark for himself and others.
Principal Dr. Pardeep Bhandari and staff presented a token of respect to all the dignitaries.