DC inspects child care institute and specialized adopt agency run by Swami Ganga Nand Bhuriwale International Foundation
Orders officials to hold camp for UID Card of children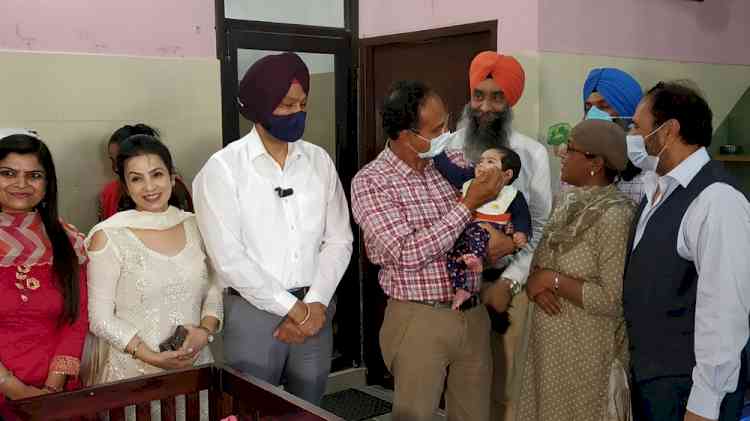 Ludhiana: In order to ensure better living standard for the children in Child Care Institute, Deputy Commissioner Mr Varinder Kumar Sharma today inspected such institute being operated by Swami Ganga Nand Bhuriwale International Foundation in Talwandi Khurd village of the district. 
During the visit, Deputy Commissioner had detailed interaction with the children and the management authorities.
The Deputy Commissioner accompanied by SDM Jagraon Narinder Dhaliwal visited the centre which also has specialized adoption agency,  where destitute/ orphan students were being provided boarding and lodging facilities. 
He inspected the quality of food being served to the children by the institutions and also inspected the places where the children were residing. 
Likewise, Sharma also had detailed interaction with the children about the facilities being provided to them. 
Lauding and assuring fulsome support and cooperation to the management of these institutions, the Deputy Commissioner said that the children residing in these institutions must be provided best facilities for ensuring their overall development. 
He said that the comprehensive grooming of these children was the need of the hour to secure their bright future. 
Mr. Sharma also asked the management to take special care, in terms of security and good environment, for the girls living there.
The Deputy Commissioner said that he had asked the officers of the district administration to frequently visit these centers/ institutes so as to keep a regular tab over the facilities being offered to the hapless children in such institutes. 
He said that the district administration was duty-bound to ensure that these children live their lives with dignity and pride.
Mr. Sharma said that all out efforts would be made these children a partner in the socio-economic growth of the state.
He also ordered the officials to hold a UID card generation camp in the centre so that all children can have their own Aadhar. 
Prominent amongst others present on the occasion included President Jasbir Kaur, Sewa Singh, Dr Rajinder Singh, Dr Mehak Bansal, Dr Jesica Singh, Ekamdeep Kaur and others.