CT World School students bag 3 gold and 2 silver in Pro Punjab Karate League 2020-21
All the students are enthusiastic learners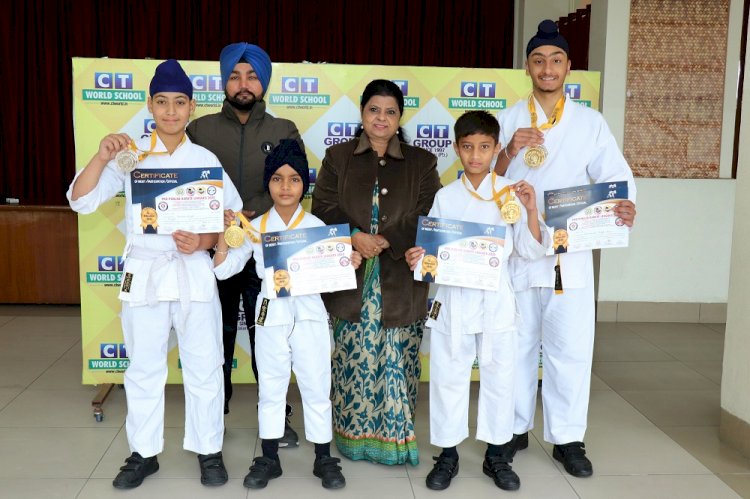 CT World School Principal Madhu Sharma along with students who won various medals.
Jalandhar: Keeping sporty spirit alive, students of CT World School namely Jashanpreet Singh Saini, Gurveer Singh, Adhvay Nair and Angad Lakha of grade VIII, VI, IV and III respectively brought laurels to the school by winning three Gold medals and one Silver medal in Pro Punjab Karate League organized by Karate Association of India held at Amritsar under the category of Karate, Kata and Kumite.

All the students are enthusiastic learners and have also proved their mettle earlier by bagging Gold, Silver and Bronze medals in Punjab Budokan karate-do open inter school championship, Second Youth National Games, Athletes Meet held at sports school Kapurthala and Kids Got Talent.
One of the students named Jashanpreet Singh said, "Besides performing well in studies, I am fortunate that I have got perfect training in sports as well and I give credit to my school and parents support for this accolade."
On this proud moment, Madhu Sharma, Principal CT World School remarked that our sports curriculum is planned and designed for students to develop and enhance skills like strength, speed, endurance, and  balance and now sports has also evolved as a form of entertainment and also offers promising careers. She praised the students for their wonderful performances and wished them best for their future.