Chandigarh witnesses SikhLens' Sikh Arts and Film Festival 
Celebrated best and brightest in Sikh cinematic and artistic culture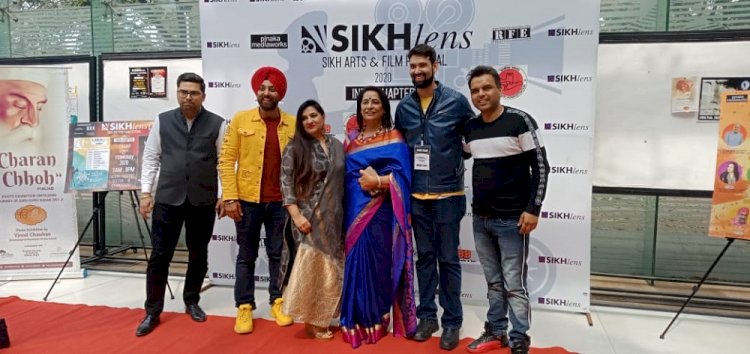 Chandigarh: Pinaka Media Works in association with Department of Cultural affairs UT  Chandigarh hosted the SikhLens' Sikh Arts and Film Festival for the first time at Tagore Theatre , celebrating the best and brightest in Sikh cinematic and artistic culture.
The one-day cinematic showcase featured emerging artists and musicians, a gamut of films touching on the Sikh experience and a series of panels highlighting emerging and established talents.
"SikhLens was created to provide a unique venue for artists to present their 'Sikh-centric' films, art and music to the broader community with the intent of showcasing their talents and generating increased Sikh awareness," Bicky Singh Founder Sikhlens stated.
He added, "This festival is a premiere venue to highlight social issues, recognize talent and watch the harmony between the Sikh faith and the external cultures that surround its diverse followers."
The centerpiece film that perhaps captured that harmony was the "Chaurassi".
Starring a mix of Indian, Indian American and actors, including being escorted down the red carpet by an energetic India Chapter Sikhlens team.
Inaugural session was marked with historic lamp lighting with hoard of dignitaries including Aneesh bhanot – President- Rotary Chandigarh Shivalik; Renuka salwan – DPR, Punjab University; Dr Vibha Taluja - Director, Ashi Haryana; Navdeep Singh Virk IPS; Khushwant Singh Author; Gagandeep Singh; and Gurbachan Singh.  Bicky Singh, Gurpreet Kaur and Ojaswwee Sharma joined from Sikhlens Team.
Post lamp fighting first film session saw Benediction  (india/ 52mins); The lions of london  (UK/ 14mins); I run while talking to god (fauja singh film) ---(UK/ 19mins); Shades of indigo  (US/ 20mins); Growing life  (Australia/ 11mins).
World renowned artists gathered for the artist segment and poetry recital including Vinod Chauhan, Almond Singh, Hardeep Singh, Devinder Pal Singh and Lily Swarn.
 
The second film session  featured Sikh Formaggio - (Italy/ 22mins); Ride with Pride - (Australia/ 15mins); Rooh - (India/ 11mins); Red, white and beard - (US/ 12mins), The prisoners song - (US/ 20mins); Pagg -(US/ 18mins); Style with kaur - (Australia/ 14mins).
Evening saw artist performances by Amy Singh and Minto Singh.
Later, there was the third film session featuring Zubaan - (India/ 25mins) - Multiple Award Winning; She who questions - (Scotland/ 14mins); The Singh Twins -(UK/ 20mins); Scars: after a 100 years of Jallianwala bagh -(India/ 32mins); Chaurassi (1984) -(India/ 20mins).