Central University of Punjab's faculty and students pays tribute to martyrs of nation 
Also, honour the families of Bathinda Martyrs/Partition Victims on 76th Independence Day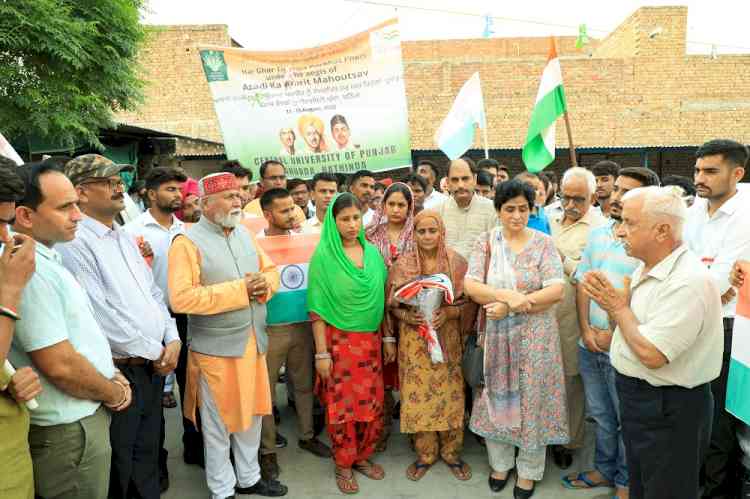 Vice Chancellor Prof. RP Tiwari honouring the family members of Shaheed Ashwani Singh (India Peace Keeping Force at Sri Lanka in 1988).
Bathinda, August 16, 2022: Marking the pious occasion of the 76th Independence Day of India, the faculty, staff and students of the Central University of Punjab, Bathinda (CUPB), under the leadership of the Vice-Chancellor, Prof. Raghavendra P. Tiwari, honoured the family members of some martyrs of Bathinda and those who were displaced during the tragedy of partition.
At the outset, Vice-Chancellor Prof. Tiwari, along with faculty, non-teaching staff and students, paid floral tribute to the statue of Martyr Nand Singh (1947) situated at Fauji Chowk, Bathinda and the Statue of Kargil Martyr Sandeep Singh (1999) located at Parasram Nagar, Bathinda.
After this, the Central University of Punjab team led by Prof. Tiwari conducted a Har Ghar Tiranga Yatra from the statue of Shaheed Sandeep Singh. At this rally, the Vice-Chancellor paid rich tribute to our national heroes who have sacrificed their lives for our motherland by honouring the family members of Martyr Sandeep Singh (Kargil War in 1999) and Martyr Ashwani Singh (Indian Peace Keeping Force at Sri Lanka in 1988). During this rally, he encouraged the youngsters to learn from the supreme sacrifice of our freedom fighters and martyrs, as this would help to imbibe nationalism and patriotism among them.
In addition to this, Vice-Chancellor Prof. Tiwari also met with the victims of partition, Smt. Sudesh Rani (80) and Sh. Jangilal (90), residing at Ganpati enclave at Bhatinda to understand the miseries faced by the masses during the tragedy of partition in 1947. Both of them faced fierce violence and left their home at Sheikhpura (in Pakistan) and, after living in a refugee camp at Amritsar, they finally settled at Bhatinda.
While interacting with Vice-Chancellor Smt. Sudesh Rani mentioned that she was five years old at that time and left her abode with her father and others, but unfortunately, her twenty-one family members were brutally killed in the tragedy. Shri. Jangilal said that his family members were rescued by the Gorkha regiment and that his father later got a job in India. He also narrated that he again went to Pakistan, where he went to his home and asked to drink water from the tap which he used to drink in his childhood before the partition.
After listening to the tragic life stories of partition victims, Prof. Tiwari expressed his gratitude towards the brave personalities who never lose hope in life and fight the adverse situations with courage. On this occasion, he made an appeal to CUPB faculty to conduct a detailed study on the problems faced by the partition victims and document their stories of bravery and determination.