Campus placement drive held at GNA University
Five students get selection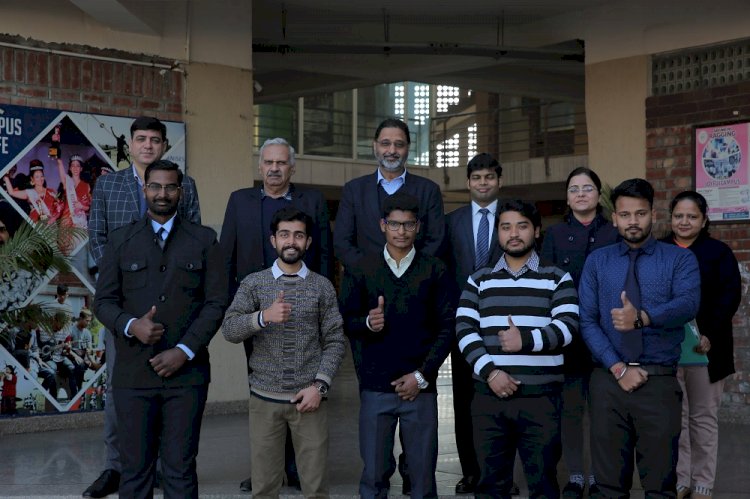 Selected students of GNA University, during a campus placement drive.
Jalandhar: GNA University conforming to its standards of giving 100 percent placements had organized campus drive of various companies for students of Faculty of Design & Innovation. NTF India Pvt. Ltd. based in NCR region selected 05 candidates from 30 students of B.Tech Mechanical and Automation.

Mr. Ravinder Jain DGM Design, Mr. Abhishek Softa, DGM NPD and Mr. Satyender Yadav, AGM HR of the company personally interacted with the candidates to test their technical skills, communication skills, CAD Modelling as well as Drafting skills. They delightfully shared his views that students already have knowledge on modern techniques of CAD, CAM, CAE, Automation and PLM. 
NTF India has been a renowned leading manufacturer, developer and supplier of engineering plastic and composite parts mainly for transport sector including majorly automotive parts and systems. Providing support to the companies in their most complex and challenging engineering initiatives worldwide. Fiat, Maruti Suzuki, Caterpillar, Rail Coach Factory, Toyota, Tata etc. are the few names from their customers' list.
Mr. Ravinder Jain, Mr. Abhishek Softa and Mr. Satyender Yadv discussed with Mr. Gurdeep Singh Sihra, CEO, GNA Gears Ltd. and Pro-Chancellor, GNA University about taking collaborated initiatives to explore skilled manpower which is the demand of the modern automotive industries, paper to part, styling & product designing and digital manufacturing.  They congratulated Mr. Sihra for running advance technology programs which are bridging down the gap between educational institute and industrial requirements
Mr. S.D. Yadav Managing Director NTF India Pvt. Ltd. personally interacted with the shortlisted candidates and said that the principal philosophy is "Design is inevitable". That a society can't survive without a strong desire to create new products and services. For every progressive society, it is very important to keep itself ahead of the times, to design for the future. 
They also discussed with Mr. C.R. Tripathy, Dean, Faculty of Engineering Design & Automation, Design Division and Dr. Monika Hanspal Dean, Academics that GNA University is the best in northern region in terms of industry institute interface activities and the commitment of the students towards their job.
On the closing note, Dr V.K. Rattan, Vice-Chancellor, GNA University thanked the delegates along with award of gratitude.