Basera Scheme- Administration identifies 658 beneficiaries in eight slums, finds four more slums in Ludhiana 
DC directs officials to expedite process for conferring property rights to slum dweller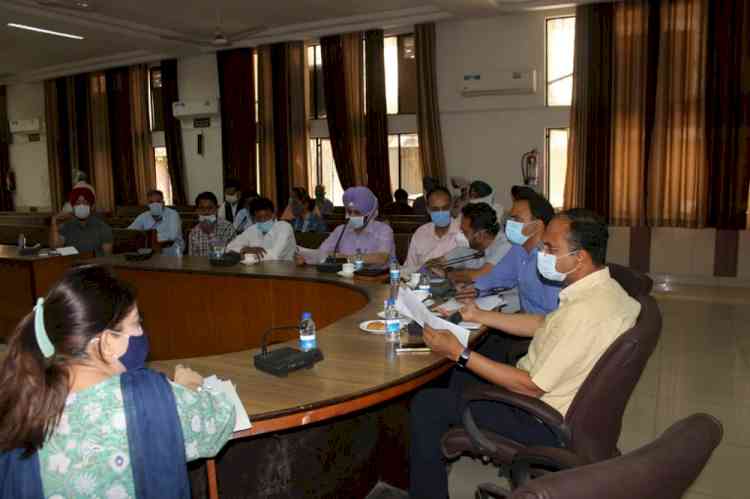 Ludhiana: Deputy Commissioner Varinder Kumar Sharma on Friday said that the district administration has identified 658 beneficiaries in eight slums of the city under the Basera scheme to whom ownership rights would be conferred from next week. 
Presiding over a meeting to review the progress of CM Grant of Proprietary Rights to Slum Dwellers (Basera Scheme), Deputy Commissioner directed the officials to expedite formalities regard NOCs from the concern departments and others to ensure every slum dweller get the benefits of the Basera scheme from coming week by following strict adherence to the Covid protocols and norms. 
He said after verification drive in eight slums, 70 beneficiaries in Baba Jiwan Singh Nagar, nine in Bhola Colony, 85 beneficiaries in Preet Nagar, 303 beneficiaries in Ambedkar Nagar, 26 beneficiaries in Chet Singh Nagar, 30 near Sidhwan Canal, six in Muslim Colony, and 129 in Sanjay Gandhi Colony have been identified. Further, he said that the four more slums have been found in wards 21, 12, and two in ward-15 and asked the officials to send the details of slums identified to the government and initiate the verification of the beneficiaries. 
Sharma termed the program as a landmark step towards urban development by giving proprietary rights to every slum household occupying the state government land in a slum of any city area. 
He said that the program also aims at transforming urban slum areas with basic civic amenities, including potable drinking water, street lighting, and roads to slum dwellers.
He added that under this scheme, those living in slum areas, in houses of a maximum size of 30 sq yard will be benefitted from ownership of the house.
He asked the officials to ensure that every slum dweller gets the benefit of the scheme, which will make Ludhiana slum-free and everyone would lead a comfortable life.
Those present on the occasion included Additional Deputy Commissioner (General) Amarjeet Bains, SDMs Amrinder Singh Malhi, Dr. Baljinder Singh Dhillon, Joint MC Commissioner Swati Tiwana, and others.