Annual Convocation held to confer degrees for MBBS Batch 2014
Convocation started with impressive academic procession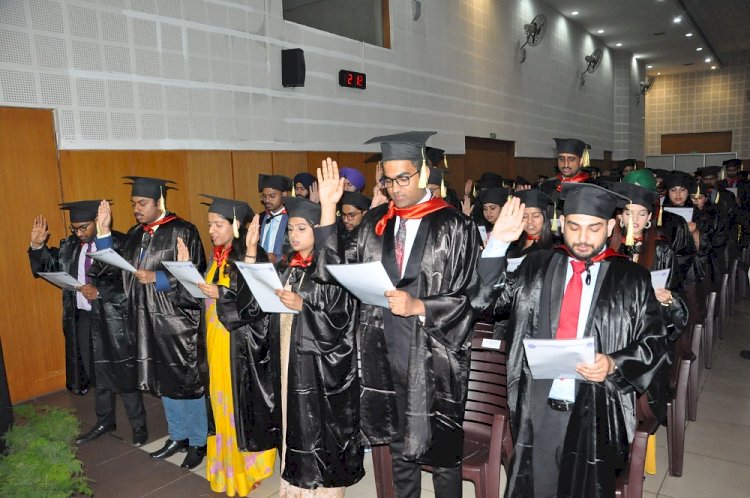 Ludhiana: Annual Convocation was held today in Dumra Auditorium, DMCH, Ludhiana, with to award degrees and prizes to students of MBBS Batch 2014.
Dr KK Talwar, Former Director of PGIMER, Chandigarh and Advisor, Health and Medical Education, Government of Punjab was the Chief Guest during the Convocation.
The convocation started with impressive academic procession while introducing the chief guest to faculty members present on the occasion.
A warm welcome to the chief guest, dignitaries and parents of the fresh graduates was  given by Vice-Principal Dr Gurpreet Singh Wander.
In his address, Dr Wander introduced the chief guest to the audience and congratulated fresh young medical graduates for getting the fruit of their labour.
Addressing the students as young medicos in the Convocation, President of DMCH Managing society-Sh Sunil Kant Munjal exhorted the students to work hard for progress, prosperity and achievement of their goal in life. Mr Munjal also emphasized the need to make health services available for rural areas and also for people belonging to lowest
strata of society.     
Speaking on the occasion, Secretary Sh Prem Kumar Gupta called upon the students to prove their worth and ability in this competitive world as practical life demands wisdom, prudence and dedication along with knowledge and reminded that there is no substitute of good education, hard work and cultured conduct.
Dean Academics Dr Rajoo Singh Chhina addressed the august gathering and told that 'Annual Convocation' is very auspicious ceremony of conferring young medicos with 'Doctor's' degree and enhancing their role in serving the humanity as a whole.
Principal Dr Sandeep Puri declared 'Convocation' open and read 'Annual College Report' elaborating the achievements and progress made by the institution and faculty during last one year and before the august gathering.
Dean Academics Dr Rajoo Singh Chhina administered the Hippocratic Oath to the fresh graduates before presenting them their degrees.
In all, 85 certificates and 16 medals were awarded to medicos of various batches.
Gold Medal for Best Graduate was given to Dr Jasneet Singh Channa, Silver Medal for Second Best Graduate was given  to Dr Gurneet Kaur.
'Award of Excellence' was given to Dr Siriesha and 'All Rounders Award' was given to Dr Amroz Singh & Dr Aditi Gautam.
The chief guest-Dr KK Talwar extended warm congratulations to the fresh medical graduates. He appreciated growth of Dayanand Medical College & Hospital in terms of repute as well as infrastructure and expressed his earnest desire to make DMCH a hub of academic & research activities so as to be recognized as most sought after medical
institution.
He called upon the students and teaching fraternity to work strenuously for achievement of the goal in light of mission and vision of the institute.
The Convocation concluded with a vote of thanks proposed by Dean Academics Dr Rajoo Singh Chhina  and the return of the academic procession.