Amity University Greater Noida and Aeris joined hands to work in IoT
Industry and Academia collaboration for joint research in advanced IoT.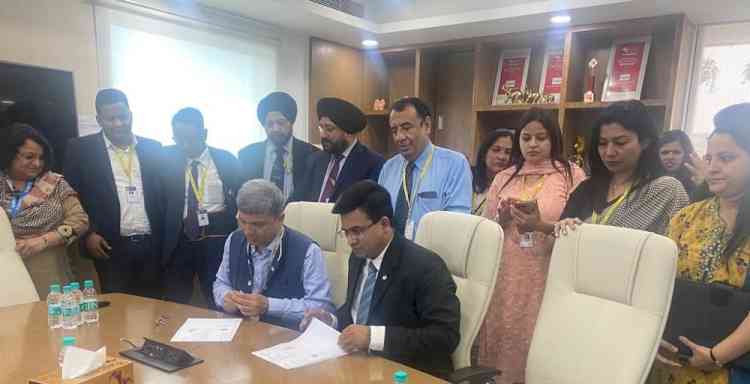 Amity University Greater Noida Campus and IT company Aeris Communications came together for enhanced Industry-Academia collaboration and signed a memorandum of understanding for joint work in the field of emerging technologies and to establish a Centre of Excellence in the field of IoT in the premises of Amity University Greater Noida, promoting research and academic excellence. 
The MoU was signed by Prof. Dr Ajay Rana, Director General, on behalf of Amity University and Dr Rishi Mohan Bhatnagar, President, and leading researcher, on behalf of AERIS Communications.
The objective of the MoU will be to promote cooperation and more effective utilization of resources and provide enhanced opportunities. The MOU will also research and develop how new innovations can be made in the premises of the university.  In the train the trainer Program, Aeris will train few faculties of Amity, who can then provide quality training to the University students. 
Prof. (Dr) Ajay Rana, Director General, Amity, said that Aeris Communications and Amity University Greater Noida Campus will together set up a centre at Amity premises for innovation and allow university people to visit the company under the Train the Trainer program. They will also be included in programs of industrial training. Dr Rishi Mohan Bhatnagar, President and Board Member of Aeris Communications told that the purpose of this MoU is to motivate students to startups, work on new patents, and make them aware of new inventions daily. He said that this MoU will strengthen our commitment and cooperation and will play an important role in the development of the students.
Shweta Berry Director of Marketing AERIS, Anil Chaudhary, Registrar- Amity Greater Noida, Dean Professor Jassi, Brigadier Dhanni, Heads, and Faculty members were present during the signing ceremony.