AICTE sponsored one FDP on 'alternative fuels' organised in Shaheed Bhagat Singh State Technical Campus
Expert speakers from various eminent organizations delivered lectures through online mode on the different alternative Fuels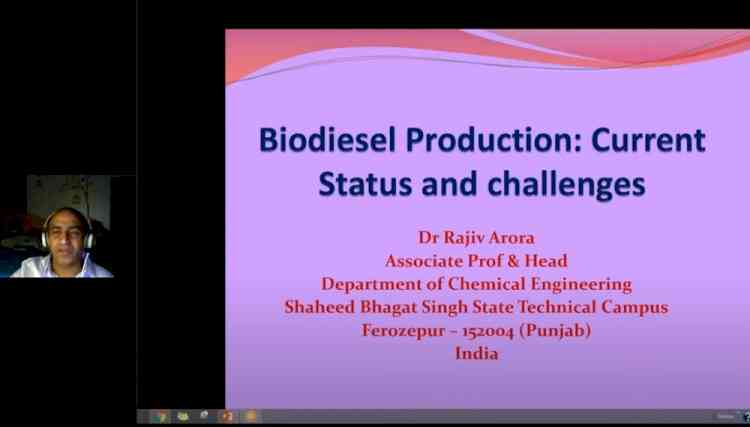 Ferozepur: The Department of chemical Engineering of Shaheed Bhagat Singh State Technical Campus(SBSSTC), Ferozepur organized All India Council for Science & Technology (AICTE) sponsored one week multi-disciplinary' Faculty Development Program (FDP) on 'Alternative Fuels' in which 200 faculty members and research scholars from different institutes and universities of India participated. The main aim of the course was to make the faculty and research scholars aware of the use of various Alternative fuels along with their advantages and environmental impact.

Chairman-AICTE, Prof. Anil D. Sahasrabudhe inaugurated the FDP online though Youtube live session. Director of SBSSTC, Ferozepur Dr. T. S. Sidhu addressed the inaugural speech highlighting the importance of the alternative fuels. He also highlighted the research work going on in the field of renewable energy.  Coordinator of the FDP and Head of the Chemical Engineering Department, Dr. Rajiv Arora welcomed the participants on one-week FDP and acquainted the participants about the contents of the one-week training program. 14 Technical sessions were conducted on different areas covered in this program including Solar Energy, Wind Energy, Biofuels, Biomass energy and Biogas.

Expert speakers from various eminent organizations delivered lectures through online mode on the different alternative Fuels. Dr S K Sharma, Prof Emeritus IIT Delhi,  Dr S K Sharma, Prof Emeritus – Panjab University, Dr Amrit Pal Toor Prof – Panjab University, Dr S S Sooch – Punjab Agriculture University, Dr N K Grover Prof – IKGPTU, Kapurthala, Dr Dhanya MS Asst. Prof – Central University of Punjab, Dr Rajeev Gumar Garg, Dr Amit Arora, Dr Pankaj Kalra from SBSSTC Ferozepur were among the expert lectures during the training program. Dr Rajiv Arora also taught the technique for making biodiesel in laboratory and at pilot scale. An online test was also conducted, and the certificates were distributed to experts and participants.