Agriculture Department organized 2-day Spring Flower Show-2020 at LPU Campus
In the show, 800 + floral varieties under 10 classes and 97 sections were showcased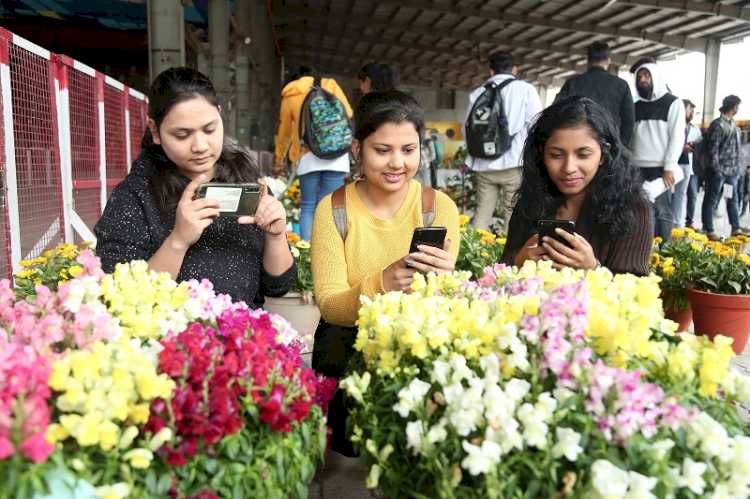 Student enjoying flower show during 'Spring Flower Show-2020' at Lovely Professional University.


Jalandhar: Indian Council of Agriculture & Research (ICAR) accredited, the School of Agriculture at Lovely Professional University (LPU) organized two-day 'Spring Flower Show-2020' at Unipolis of the Campus. This show-cum-competition was open to individuals; amateurs; government, semi government, private institutions; organizations; self-help groups; and, nurseries. During 2 days of the show, 800+ floral & plant variety under 97 sections of 10 classes including 'Flower Arrangements, Cut Flowers, Flower-Ornaments, Flowers grown in Pots, Bonsai, Landscape, Plant as Gift,  Cacti & Succulents' were showcased for onlookers. LPU Pro Chancellor Mrs Rashmi Mittal inaugurated the flower show.
Judges for the competitions were renowned personalities from the allied fields, including  Former Head Floriculture & Landscaping Department of Punjab Agricultural University (PAU), Ludhiana, Dr JS Arora; Former XEN Municipal Corporation Dr JS Bilga; and, Dr. Brijmohan Bharadwaj also from Punjab Agricultural University.
Different flower competitions for flower- ornaments, bracelets (Gajra), ear rings, hair rings (Vanie), button holes, flower bouquets, garlands and more were much liked by onlookers as well as participants. Huge trees like Pipal, Neem, Banyan were also there, which were preserved in miniature forms. Seen in very small pots, these trees were in their exact forms by planting age old grown overhead roots of these trees.
It is worth mentioning that LPU School of Agriculture guides students to grow pulses, organic & fibre crops, hybrid plants, fruit and vegetables in modern hygienic ways. All students and staff members work tirelessly in raising wonderful crops, and also take help of poly houses. In the forthcoming years, the school is sure to set unique benchmarks for other to follow. Head of the Agriculture Department Dr Ramesh Sadavarti informed that high-spirited participation was made by Government departments; educational institutions; flower boutiques; self-help groups; garden tools manufacturers; and, many other private agencies dealing in agricultural products. All of these magnified the dimensions of the show and the competition thereof.