41st INCA International Conference concludes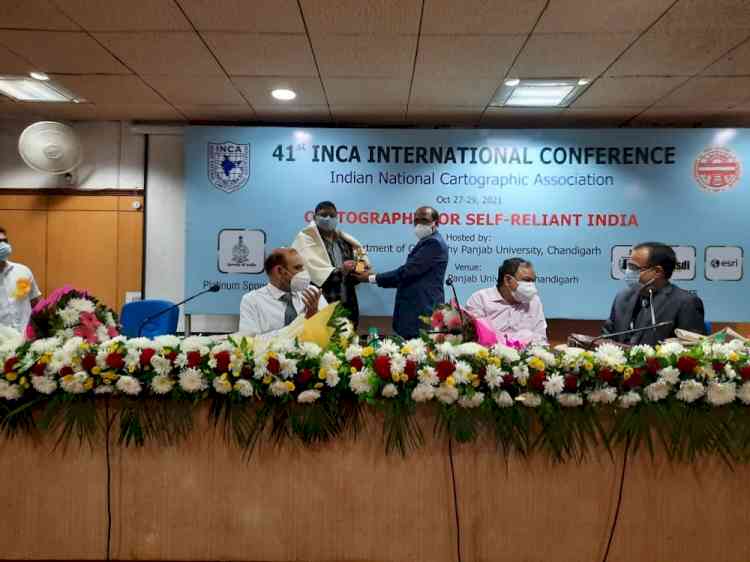 Chandigarh, October 29, 2021: The third and the last day of the 41st INCA International Conference hosted by Geography Department, Panjab University, Chandigarh started with three parallel technical sessions from 9:30-11:00 am in offline and online mode; poster presentation from 11:30-12:30pm in online and offline mode; and concluded with the valedictory function from 12:45-01:45 pm.
            Valedictory function began at 12:30 pm with the report of the conference by Prof. Gaurav Kalotra, Organising Secretary, INCA 2021. Valedictory address was delivered by Dr. Brijendra Pateriya, Director, Punjab Remote Sensing Centre (PRSC), Government of Punjab. He remarked that for real development of our nation a bottom-top approach with panchayats as a unit needs to be adopted. Local assets/amenities need to be mapped accurately for development and planning.
            The guest of honour address was given by Dr. Pramod K Satyawali, Director, Defence Geoinformatics Research, Establishment (DGRE) Government of India. He stressed that India has wealth of human resource which needs to be channelised and such conferences can go a long way in empowering citizens of the country to reap benefits of GIS. He also said that GIS is poised to contribute to the vision of aatmanirbharta.
            Chief guest Professor VR Sinha (Dean of University Instruction, PanjabUniversity, Chandigarh) addressed the audience and expressed his happiness that this conference was the first offline conference during the pandemic times that the University has hosted. He also said that cartography and GIS find use in day- to -day life and can be used for betterment of humans.
            Dr. Pramod Kumar from Departmentof Space, ISRO thanked the audience and moderated the felicitation of Prof. Gaurav Kalotra by Prof. Krishan Mohan. All the volunteers of the Conference were facilitated by Prof Krishna Mohan, President, INCA. At the end, Dr. Vishwa B.S. Chandel extended the vote of thanks. The conference concluded with the National Anthem.