14658 migrants avail free travel facility so far 
Captain government spends Rs 1.02 crore to send them back to their native states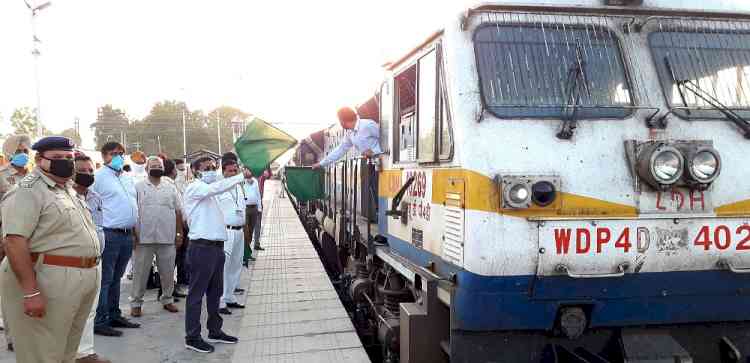 Ferozepur: The Punjab government led by Chief Minister Captain Amarinder Singh has by Wednesday evening spent Rs 1,02,56,000 Crore to facilitate more than 14,658 migrants stranded in Malwa region during lockdown to go back to their native states free of cost via 14 'Shramik Express' trains, said Deputy Commissioner Ferozepur Mr. Kulwant Singh.  He said that the 14th Shramik Express train left for Sopor (Bihar) at 7 pm from Ferozepur Cantt Railway station with 1600 migrant laborers and the cost of this 14th train Rs. 11.12 Lakh was borne by the state government.
 
The deputy commissioner further added that earlier in the day, the migrants were ferried in the state-owned buses to the Ferozepur Cantt Railway station from the transit points. Thereafter proper health screening of the migrants was done by the Medical and paramedical staff before boarding the trains. Likewise, the migrants were also provided free food, water, sleepers, and other things of their needs which were required during the travel, added Mr. Kulwant Singh.
 
He said that the district administration has already made the elaborate arrangements for the free travel of the migrants. The trains were being moved from the Ferozepur Cantt station under the supervision of SDM Mr. Amit Gupta along with various officials and employees adding the deputy commissioner said that no stone would be left unturned to facilitate the migrant laborers in this hour of crisis.
 
The deputy commissioner said the series of arranging special trains for migrant laborers from Ferozepur Cantt railway station was started on May, 14 with 1200 passengers on board at Rs. 6 Lakh, which was borne by the state government. Similarly, more trains were arranged including the second train to Amethi with 1188 passengers with an expenditure of Rs. 6.12 Lakh adding he said that third train ferried 1098 passengers to Gorakhpur, the fourth train ferried 1190 passengers to Gonda, fifth 1200 to Gonda, sixth 1200 to Kishanganj, seventh 515 to Jhansi, 8th 1102 to Lucknow, 9th 560 to Bareilly, 10th 750 to U.P., 11th 1045 to UP, 12th 925 to Bihar, 13th 1085 to Bihar and now 14th train ferried 1600 migrant laborers to Bihar and a whopping amount of train fares worth Rs. 1.02 Crore has been spent by the state government so that all the migrant laborers could get back homes free of cost. The deputy commissioner said that the more trains were being planned to take more aspirant migrant laborers to their native places.