'Zindagi Ek Tamasha, a Theatrical Workshop organized at Doaba College
Nineteen students along with the faculty members participated in the workshop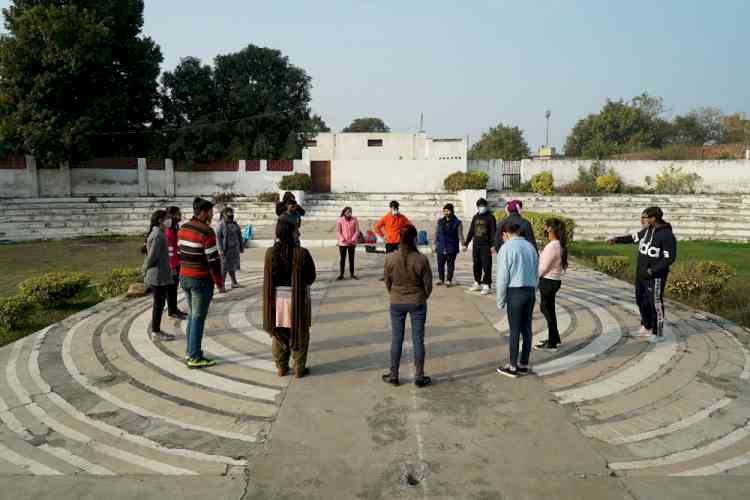 Jalandhar: P.G. Department of Journalism & Mass Communication, Doaba College, Jalandhar, organized Five day workshop on Personality and Theatre in Life, titled 'Zindagi Ek  Tamasha'.
Maintaining the strict guidelines of COVID-19, a wide array of topics through group based exercises including Types of voice, diction, speech, various stages and methods of acting were covered. The participants were made aware of importance of body movement, observation and imagination in order to create a creative work of art. Through various personality development activities students were engaged to make finest of facial and eye expressions.
Every day set was in motion with yoga and spiritual exercise including, 'OM', followed by sessions taken by extremely talented old students of the department, including Deepak Sharma, Kirti Gill, Rahul, Tarun ; three of them associated with well recognized theatre groups, performed at national and international theatre festivals. Prof Deepak Sharma co-ordinated the entire workshop.
Nineteen students along with the faculty members participated in the workshop, prepared and performed four different nukkad nataks, 'Udaan', 'Back to normal', 'Everyone is perfect in their own way' and 'Azadi', based on various rass of acting.Dr. Simran Sidhu, Head, P.G. Department of Journalism & Mass Communication , shared, that the purpose of this workshop was to bring the students back to routine after a long forced break due to COVID-19. Not only meant for theatre only, the workshop aimed to lead to overall personality development of the students to meet the requirements of media industry.
Principal Dr. Naresh Kumar Dhiman lauded the efforts of the department. Prof Priya Chopra thanked the resource persons for their valuable contribution.