ZEE Biskope returns with its award-winning viewer initiative 'Talent Camera Action'; 3rd Season – 3 Weeks – 3 Mega Winners
The third season kick-starting on 29th June – Camera Day will announce 3 mega winners, who will get the chance to perform on-stage alongside a Bhojpuri superstar at ZEE Biskope's televised event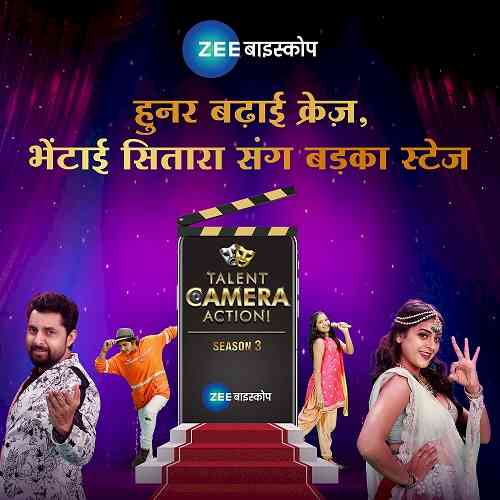 It's that time of the year again when ZEE Biskope rings in the celebrations of Camera Day amidst much gusto. Having provided viewers across the region with a platform to showcase their talent with its award-winning campaign – Talent Camera Action (TCA), the popular Bhojpuri channel launches the third season of its extremely popular digital talent hunt. While gratification scaled up between the last two seasons from being featured on ZEE Biskope to getting a direct entry into Bhojiwood, the initiative has also evidenced success that came with growing participation by almost 2.5 times. Viewer's love for the initiative went beyond just participation with the telecast day of the second season achieving a 26% slot reach growth (BARC; Bihar Jharkhand; CS 2+; Week 30'21; Sun 25 July; 1200 – 1800 hrs) over previous four weeks. Both the seasons were appreciated even by the industry diaspora, receiving multiple awards at national & internal forums. ZEE Biskope is back with Talent Camera Action in an even bigger avatar. Hosted by popular Bhojpuri celebrities Vikrant Singh & Yamini Singh, the initiative commences on 29 June – Camera Day. 
The 3rd season will span across 3 weeks and have 3 mega winners who will get an opportunity to perform on-stage with big Bhojpuri stars at a big, televised event of ZEE Biskope. The scale can't be any better.
The third season of TCA is an attempt to motivate young viewers to aspire to rise from making short videos to becoming a Big Shot. To participate, viewers can record a 1-minute video of their talent in dancing, singing, acting or any other special talent category and send in their entries on ZEE Biskope's Whatsapp number 8291829135 between 29 June & 13 July. The mega winners & special appreciation winners will be announced on 17 July on ZEE Biskope's TV & social platforms. The 3 mega winners will get an opportunity of an on-stage performance with big Bhojpuri stars at a big, televised event of ZEE Biskope. They will also receive a trophy and certificate each from ZEE Biskope. Not just that. All 20 winners including 17 special appreciation winners will have their talent videos showcased on ZEE Biskope TV & social platforms.
Adding to the celebrity quotient, this talent hunt has also roped in popular Bhojpuri stars Vikrant Singh and Yamini Singh as the ambassadors of the campaign. The dynamic duo will be seen promoting the initiative across TV & digital platforms throughout the journey of the contest.
Expressing his elation on the launch of yet another season of this initiative, Samrat Ghosh, Chief Cluster Officer, East, ZEEL said, "From being a completely novel concept, we've made Camera Day earn a special place in the hearts of our audiences who now eagerly await the occasion. Our young viewers are high energy, innovation seeking audience. Initiatives like Talent Camera Action not just gives them a platform to fulfill their aspirations but even provides us with an opportunity to discover fresh talents who can add value to the industry. Bigger and better, this initiative opens up wider integration opportunities for our advertisers too."
Adding to this Amarpreet Singh Saini, Chief Channel Officer, Bhojpuri Cluster, ZEEL said, "Viewers seek more active involvement with entertainment brands today and digital media plays a significant role towards that. It deepens bonding with the brand and eventually impacts content affinity as well. The growth in both participation & telecast day viewership is a glowing testament to the ever-growing popularity of Talent Camera Action. This overwhelming love of our viewers is what drives us to curate and bring meaningful gratifications for our viewers every season and extend our entertainment offering beyond the realm of movies. Raising the bar of entertainment yet another time, we are confident that the third season of Talent Camera Action will prove to be a resounding hit."