Youth Congress take out march against Delhi violence
Slogans raised against BJP government at Centre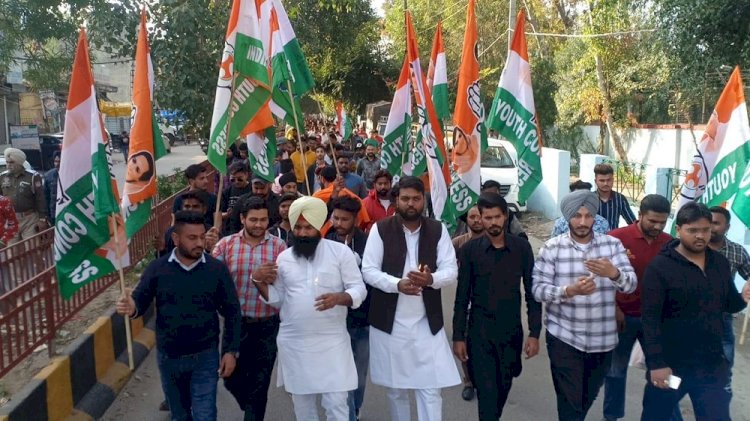 Jalandhar: Today, Angad Dutta President Youth Congress Jalandhar (U) , Jaskaran Sohi General Secretary Youth Congress Jalandhar (U) along with the workers of the Youth Congress Jalandhar organised a peaceful march in Jalandhar City. The march started from Avtar Nagar Street No. to 1 to Dr. Baba Sahib B. R. Ambedkar Chowk, Jalandhar. They also raised slogans the BJP government as they fail to maintain law and order in New Delhi.
During the march Angad Dutta blamed the central government for the communal rights that erupted in the capital city of the country. The riots in Delhi shows the total failure of the central government as law and order in the capital comes under their domain. 
Angad said that the Delhi Police and BJP is playing hide and seek game to fool the people across the country. Though more than 120 FIRs have been registered by the Delhi Police but no FIR has been registered against the leaders who are mainly responsible for the provocative speeches which are instigating the violence. There seems to be a laxity in containing the violence on the part of Delhi Police, which comes under the GoI. It is up to the Government of India to contain the situation.
Jaskaran Sohi said that the Delhi police failed in their task of controlling the riots and remained a mute spectator when armed gangs were killing people and setting properties on fire. Action should be taken against the errant police personnel, who, instead of performing their duties, either remained silent spectators or appeared to be helping the rioters.  
Paveen Kumar President Jalandhar Central, Sunny Kumar President Youth Congress Jalandhar North, Randeep Sandhu President Youth Congress Jalandhar Cantt, Bob Malhotra General Secretary Youth Congress Jalandhar, Charanpreet Channi General Secretary Youth Congress Jalandhar, Jai Abhishek Bhagat General Secretary Youth Congress Jalandhar, Harmeet Singh Mann, Jagdeep Sonu Sandhar, Sunpreet Singh, Harry Sandhu, Sunny Sokhi, Rajat Brahmin, Mandy Kumar, Rajesh Bhagat, Deep Kulaar Deepa, Nadeem Ali, Rajeev Kumar Goldy, Sandeep Kumar, Sunny Narula, Kaka Jairath , Gagan Sandhu, Ram Kumar, Pintu Saini, Ashish Thakur, Sahil Sehdev  along with more than 100 workers of youth congress Jalandhar were present in the march.