Workshop on entrepreneurial opportunities of baking and pastry in hospitality industry 
Event held at GNA University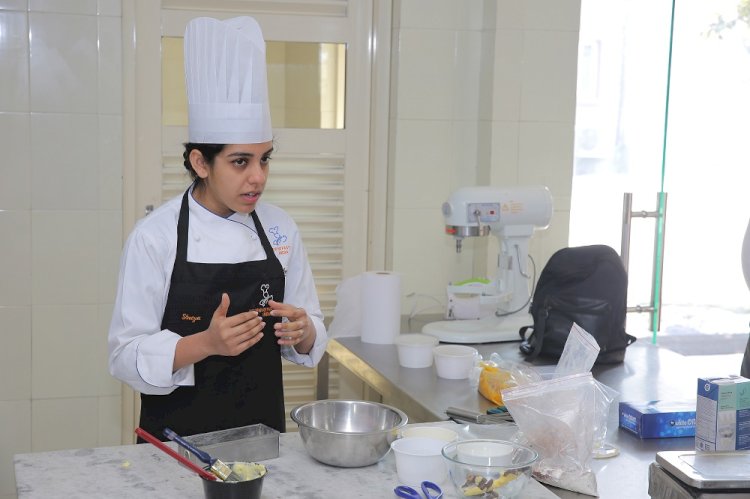 A workshop on entrepreneurial opportunities of baking and pastry in hospitality industry  being held at GNA University in Phagwara.


Phagwara: The Faculty of Hospitality at GNA University organized a Workshop on Entrepreneurial opportunities of Baking & Pastry in Hospitality Industry for the Hospitality students. In this workshop, the approaches of starting up a new venture in Bakery and Pastry were discussed. The workshop was conducted by Chef Shreya Monga accompanied by other two Chefs- Chef Guntas Sethi and Mr. Rahul Sharma, Bakery Experts from Academy of Pastry & Culinary Arts (APCA) Gurgaon.
Academy of Pastry Arts is an esteemed group of Professional Culinary & Pastry Schools with Pan-Asia presence in Singapore, Malaysia, Philippines, Indonesia, Delhi NCR, Mumbai and Bengaluru. 
Chef Rahul discussed about the Baking skills and mentioned that these skills will help the students while they will be taking up the jobs in Hospitality industry in future.  Chef Monga also demonstrated the process of making of Travel Cakes. Ms. Simran, a renowned Bakery Expert also showcased her presence at this event and motivated students to initiate their own ventures in baking and pastry.
Chef Dr. Varinder Singh Rana, Deputy Dean, Faculty of Hospitality, welcomed the guests and delivered opening remarks by mentioning the entrepreneurial opportunities in Baking profession. He also conveyed thanks to faculty members for organizing the workshop.
Dr. V. K. Rattan, the Vice-Chancellor, Prof. Dr.R.K. Mahajan, Registrar, Dr. Monika Hanspal, Dean Academics GNA University congratulated the Faculty of Hospitality for organizing the workshop. 
Dr. V. K. Rattan, Vice-Chancellor said "Organizing such workshops help the students to gain knowledge and relate the concepts in global hospitality sector."
S. Gurdeep Singh Sihra, the Pro-Chancellor appreciated the efforts of the faculty for providing opportunity to the students to enhance the knowledge about the baking art. He also conveyed that such kind of workshops will be a step forward for students in achieving their goals in the Hospitality sector.