'Workshop on Cake Mixing Ceremony' at GNA University
The key objective behind organizing this ceremony was to celebrate this ritual of unity and camaraderie with faculty and students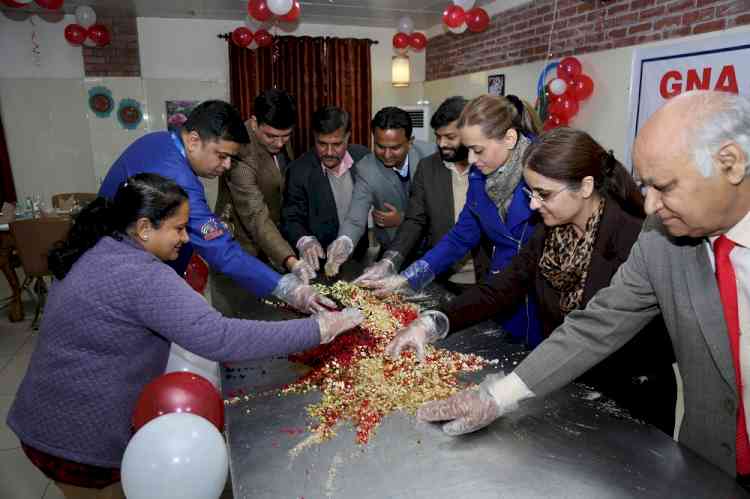 Jalandhar, December 14, 2021: GNA University organised traditional 'Mix it up ceremony' for the Christmas. The key objective behind organizing this ceremony was to celebrate this ritual of unity and camaraderie with faculty and students. 
Dhiraj Pathak, HOD, Faculty of  Hospitality organized this event in the presence of all the faculty and students of the University. Simran Sihra, a Patisserie Expert & an Entrepreneur, was the Guest of honour to this event.  Sihra informed that the first step towards making the cake is the mixing process, formally called the 'Cake Mixing Ceremony', a ritual religiously followed the world over and said to be a harbinger of good tidings and happiness.
Gurdeep Singh Sihra, the Pro-Chancellor said, "It is a great honour to witness all the departments carrying forward the traditions of their own field in full swing."
Dr. VK Rattan, the Vice-Chancellor, GNA University, Dr. RK Mahajan, Registrar GNA University, Dr. Monika Hanspal, Dean Academics  & other dignitaries also graced this event. All the dignitaries mixed more than fifteen varieties of dried fruits including dried grapes, dates, figs, cherries and papaya with nuts like cashews, almonds, pistachios, spices like dried ginger, nutmeg, cloves, cinnamon, sugar was mixed with all purpose flour, butter, and eggs in right proportion and were blended in fruit juices, wine, rum and brandy to give it a luscious distinctive flavour that is decadent for the Christmas cake.