Workshop by PU Enactus team at Maloya 
It was a part of Project Dhra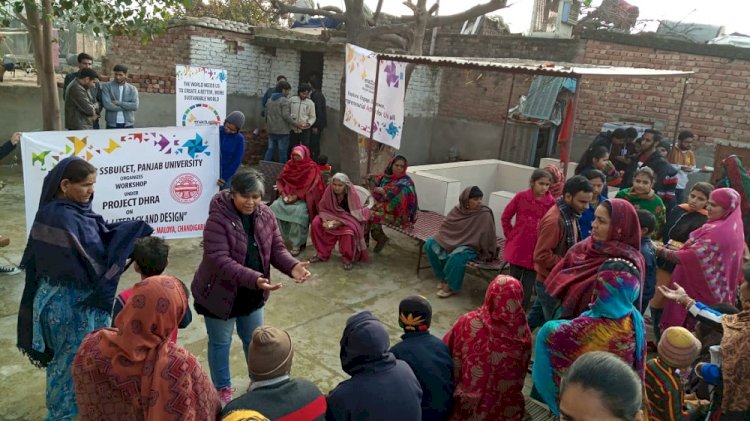 Chandigarh: Enactus team of Panjab University organized a "Financial Literacy and Design Workshop" for the potters of Maloya, Chandigarh under project Dhra to enlighten the potter community with budgeting and saving strategies. Enactus is an international non-profit organization that works for the upliftment of the society through the creation of entrepreneurs.  
The workshop was a part of Project Dhra which aims to better the lives of potters by promoting the art of pottery as well as eradicating the use of plastic cutlery, informed Prof. Seema Kapoor, Faculty Advisor, Enactus. The team realized that the usage of clay products in daily life is highly eco-friendly as it reduces the amount of plastic and non-biodegradable products. Furthermore, the plastic cutlery disposed in the oceans is often consumed by aquatic animals leading to fatal conditions in the marine ecosystem. Each and every step of this project is taken to keep the environment and aquatic life safe. Prof. Kapoor also told that the team has already linked these potters with various food joints and nurseries and is helping them in the best possible way.
The event was carried out by Dr. Monika Aggarwal, trained professional from Securities and Exchange Board of India (SEBI). She highlighted the need of financial education for the uplift of underprivileged societies. She was not only informative but also very interactive. Most of the potter families of Maloya, Chandigarh attended the workshop to learn more about how to handle their finances. Refreshments were also distributed to the workshop participants along with the stationary kits. The team members were very enthusiastic about this venture and were looking forward to make it a huge success.
The Enactus members and team president, Mr. Harleen Singh acknowledges the invaluable guidance and advice of Prof. Emanual Nahar, Dean Student Welfare, Panjab University and other higher authorities of Panjab University for always encouraging and appreciating the team for its projects.