Workshop 2021 at UIET, PU
The event has witnessed an enthusiastic response with more than thirty participants in each session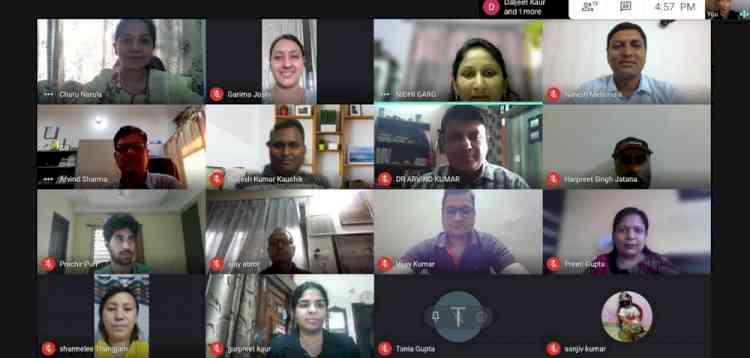 Chandigarh:     Department of Electronics and Communication Engineering, University Institute of Engineering and Technology(UIET), Panjab University, Chandigarh in collaboration with Govt. College of Engineering and Technology, Jammu, organized a TEQIP-III Sponsored Online Curriculum Revision Workshop-2021 under the guidance of Dr. Subhash Chander Dubey, Nodal Officer TEQIP-III, GCET, Jammu . Dr. Naresh Kumar, Coordinator (ECE) informed that the objective of this informed that of this workshop was to upgrade the curriculum of the department in accordance with AICTE recommendations and NEP2020 guidelines. Subject expert from IITs, NITs, CSIO, SCL, Qualcomm and other premier institutes across India were invited. 
    The Chief Guest of the inaugural session, Prof J. K. Goswamy, Director, UIET, emphasised on industrial innovation, entrepreneurship skill development, research focus on global issues, improvement of innovation skills of students and use of science and technology for solving the real life problems. He entitled the workshop as 'Sagarmanthan: process of churning the curriculum'. He also stressed upon the need of value based education so as to develop an individual's personality with lifelong learning attitude. Further, the Chief Guest congratulated the organizing team for the organising such an event. 
    In view to have a focused discussion, the subjects of B. E. (ECE), M. E. (ECE) and M. Tech. (Microelectronics) were divided into the four groups and session wise discussion was carried out. 
    Session-1 included discussion on subjects related to Signal Processing. It was chaired by Prof. Renu Vig, she focused on the need to have flexible curriculum. Prof. Amod Kumar, Dept. of ECE, NITTTR Chandigarh, Prof. B. S. Saini, Dept. of ECE, NIT Jalandhar along with alumni Ms. Vartika, TCS Research joined as the experts for this session. Mr. Sumit Budhiraja and Dr. Gurpreet convened this session. In this group experts suggested to include subjects such as Robotics, AI and IOT in the curriculum. Experts also insisted on adding same practical examples and case studies within the syllabus. 
    Session-2 focused on subjects of Communication Systems. It was chaired by Prof. Sunil Agrawal. The subject experts for the session were Prof. M. L. Singh, Dept. of ECE, GNDU Amritsar, Dr. S. S. Saini, CSIR-CSIO Chandigarh along with the Alumni Dr. Ribhu, IIT Guwahati. Ms. Preeti Gupta and Ms. Harvinder carefully noted the feedback given by the experts. It was a very insightful conversation and the inclusion of latest 5G communication technology was suggested by the panel.
    Session-3 concentrated on Digital Circuits and Systems. It was chaired by Ms. Sharmelee Thangjam.  Prof. Brajesh Kumar Kaushik, Dept. of ECE, IIT Roorkee, Dr. Arvind Kumar, Dept. of ECE, NIT Kurukshatra along with alumni Mr. Prachir Puri, Qualcomm participated in the discussion. Dr. Nidhi Garg and Dr. Pardeep Kaur managed the session. An insight on the industry requirements in order to improve employability of students was kept in view and accordingly suggested changes in the current curriculum were proposed.
    Session-4 discussed Electronic Devices and Circuits related subjects. It was chaired by Dr. Arvind Kumar, UIET while Mr. Vijay Kumar briefed the syllabi in front of panel of experts. Dr. H. S. Jatana, Scientist, SCL-ISRO, Mohali, Dr. Balwinder Singh, Joint Director and Head ACSD, CDAC Mohali, and alumni Dr. Swasti from IIT Bombay participated in the detailed discussion. They gave vision on the semiconductor industry requirements and accordingly suggested changes in the current curriculum. 
    The event has witnessed an enthusiastic response with more than thirty participants in each session. The proceedings of workshop were convened by E Dr. Charu Madhu, Er. Ajay Abrol, and Dr. Garima Joshi.