Wholehearted cooperation of people can register easy win against covid under 'Mission Fateh': Gurpal Singh Chahal
Health Department takes 28792 samples till date of which 25084 tested negative with pending report of 889 samples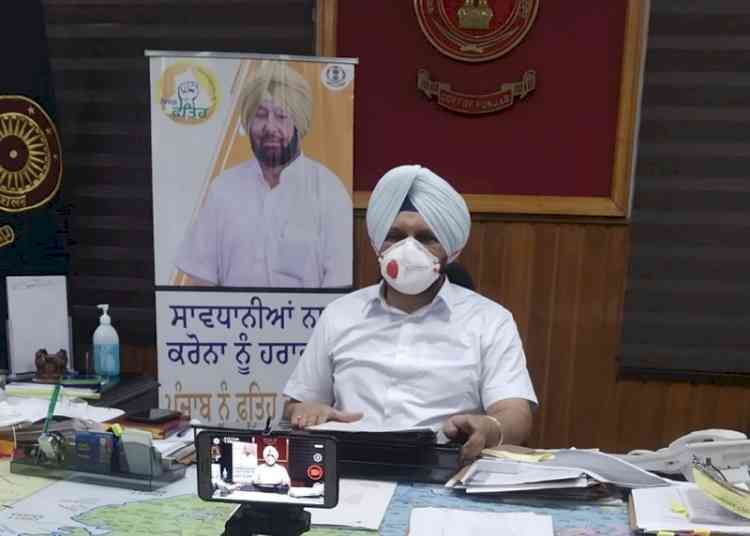 Gupral Singh Chahal, Deputy Commissioner, Ferozepur.
Ferozepur: With a view to beating COVID-19 far more efficaciously under 'Mission Fateh' of Punjab Government, the Deputy Commissioner Ferozepur Gupral Singh Chahal sought wholehearted support and cooperation from people as the present situation of COVID in Ferozepur District was improving. The deputy commissioner appealed to the people to adopt all the requisite guidelines issued by the State Government amid COVID pandemic in the large public interest. 
 
During his weekly Facebook interaction session, the Deputy Commissioner apprised that there were a total of 829 active cases of COVID with the addition of 24 new positive cases today. He said that as many as 28792 samples had been collected in District till the date of which 25084 were tested negative with a total no of positive 1680 cases. He said that the report of 889 samples was still awaited while 55 samples were found invalid. 
 
Elaborating about the hotspots, Mr. Chahal said that there were a total of 65 hotspots in the district where health and safety guidelines were being meticulously implemented to contain the further spread of the virus. He said that so far one containment and 23 micro containment zones were existed in the district adding as many as 823 COVID cases out of total 1680 had been successfully recovered. He also informed that there were total 28 deaths due to COVID in the district till date. 
 
Pointing out further, the Deputy Commissioner said that the district administration has made elaborate arrangement to take care and extend the best possible treatment to the COVID patients as there were 228 beds exclusively set aside for COVID patients in Government hospitals besides 110 beds in the various private facilities. He called upon people to download Cova app to view the real-time status of the bed availability in the district besides being on alert against the Virus threat.
 
The deputy commissioner solicited people support against this ongoing battle by following safety precautions comprising washing hands, maintaining social distance, wearing masks and giving special care to the elderly and children as these was the only measure that can prevent the further spread of this deadly virus.