Week long AICTE-ISTE sponsored induction/refresher program inaugurated at DAVIET
Eminent personalities from industry and academia will deliver the expert talks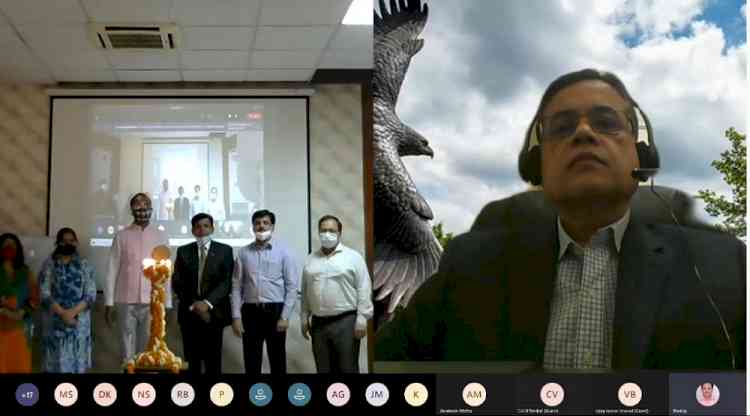 Jalandhar: Department of Mechanical Engineering, DAV Institute of Engineering and Technology is organizing a week long AICTE-ISTE (All India Council for Technical Education and Indian Society for Technical Education) sponsored Induction/Refresher program for faculty members of technical education institutes during March 17-23, 2021. Titled as "Advance Materials and Processes for Sustainable Intelligent Manufacturing", the program has been conceived to provide the knowhow on current state of research and development in the field of Materials and Manufacturing Processes especially with focus on sustainability, to be conducted in completely online mode, was inaugurated yesterday. More than 100 faculty members from different states of the country including Karnatka, Andhra Pradesh, Manipur, Tamil Nadu, Kerala, Maharashtra, Delhi-NCR, Punjab etc. have registered for participation.
The FDP has been designed to comprehensively cover the diverse fields of advanced materials such as metal and polymer-based composites, biomaterials for use with additive manufacturing, smart materials and manufacturing strategies including additive manufacturing, advance manufacturing processes, Green and Smart Manufacturing, waste minimization, recycle and reuse of materials etc.
The event was inaugurated with august presence of Prof. Rajeev S. Mishra, Director, Advance Materials and Manufacturing Processes Institute, University of Texas, who joined from United States (USA) and also delivered a keynote address on the inaugural ceremony titled "Opportunities created by Intersection of Alloy Design and Disruptive Manufacturing Technologies" focused around Friction Stir Processing of Materials and Additive Manufacturig alongwith other upcoming and novel techniques of manufacturing. Col. B. Venkat, Director, Faculty Development Cell, AICTE, New Delhi and Prof. Vijaya D. Vaidya, Executive Secretary, ISTE New Delhi were the other distinguished guests who joined on the inaugural session. 
Eminent personalities from Industry and Academia will deliver the expert talks during the week long program on the related themes. Some of the prominent names being Mr. Uma Maheshwar D., Executive Chief Consulting Engineer, GE Aviation, Bangalore, Dr. K. Anand, Chief Manager, Materials and Manufacturing Centre of Excellence, IIT Madras – Deakin University, Australia, Dr. Anish Roy, Professor, Loughborough University, United Kingdom (UK), Dr. J. Ramkumar, Professor, IIT Kanpur, Dr. P. P. Date, Professor, IIT Bombay, Dr. Rupinder Singh, Professor, NITTTR Chandigarh, Dr. P. Krishnan, Professor, VIT Vellore, Dr. Kantesh Balani, Professor, IIT Kanpur, Dr. Navneet Khanna, IITRAM, Ahmedabad, Dr. Anish Sachdeva, NIT Jalandhar and many more. There will also be session on Stress Management and Happy Living which will be conducted by Sri Anand Desai Ji, International Teaching Faculty, Art of Living foundation who will be joining from Gujarat.
Speaking at the inaugural ceremony Col. B. Venkat and Prof. Vijaya Vaidya lauded the efforts of the institute for planning the event with such distinguished speakers and audiences. 
Dr. Gaurav Kumar Dhuria, Program Coordinator welcomed the guests and apprised the audience about the program and institute. He said that the program will facilitate to enhance the delivery of quality education by training the faculty members and exposing them to recent trends in technology and will also create ample opportunities for research through the learning acquired during the one week program.
Dr. Manoj Kumar, Principal DAVIET congratulated Dr. Gaurav Kumar Dhuria, Program Coordinator and Head of Mechanical Engineering Department and his team for planning the event and wished luck for the success. Dr. Harpreet Kaur Bajaj, Dean Faculty Development, Dr. Sanjeev Naval, Head (Civil Engg), Dr. Anil Soni, Head (MBA), Dr. Kanchan L. Singh, Head (AS), Dr. Sanjeev Saini, Sh. Pankaj Sdana, Organizing Secretaries, Dr. Ashok Kumar and faculty members of the Department attended the inaugural ceremony which was carried out with proper social distancing and masks etc. in a thoroughly ventilated hall while guests and participants joined in online mode. The inaugural ceremony concluded with National Anthem..