Webinar on topic 'Dharam Het Saka Jin Kiya' 
The event was dedicated to 400th Birth Centenary of Guru Tegh Bahadur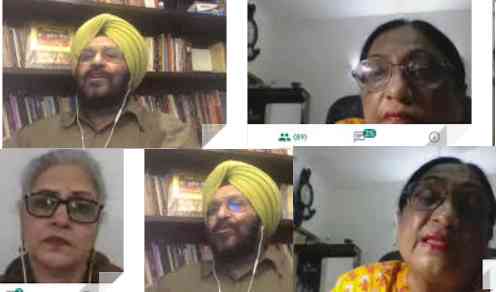 Chandigarh: A webinar on the topic 'Dharam Het Saka Jin Kiya' was organized in the Department of Guru Nanak Sikh Studies dedicated to the 400th Birth Centenary of Guru Tegh Bahadur. 

Dr. Rawail Singh, Professor of Punjabi, University of Delhi was the main speaker. Guest of Honour was Dr. Vanita, Sahitya Academy Awardee & Convener, Punjabi Advisory Board Sahitya Akedemi, Delhi. 

The web lecture started with a welcome note delivered by Dr. Jaspal Kaur Kaang, Professor & Academic in-charge, Department of Guru Nanak Sikh Studies. 

In the lecture, the speaker gave a deep historical account of Sikh Gurus & Gurmat. Speaker gave a comparative analysis of different religious faiths and traditions of India in the Medieval and contemporary Time. Guru Tegh Bahadur gave his Sheesh for the sake of Kashmiri Pandits persecuted by Emperor Aurangzeb. He gave a steamed voice about the figure and actions of Guru Tegh Bahadur from the account of Gurbani and other contemporary sources. Speaker also stressed that Sikhism is not a continuation of Indian Philosophical and religious tradition; It is a distinguish and unique Religion and Philosophical System which is manifested in the Banis of Sikh Gurus. Dr. Ravail Singh stressed upon a very need of interdisciplinary studies of Gurbani and Sikh Historical sources in current time. 

Dr. Vanita gave a poetic account of Guru Tegh Bahadur through Poem entitled "Baba Raag Bhi Tu, Vairaag Bhi Tu.Tera Roop Nirala Satguru". She also laid stress upon the action and martyrdom of Guru Tegh Bahadur through different meaningful sources.

Many researchers, students and scholars participated in the webinar.  Dr. Sheena Paul, Professor, USOL PU Chandigarh expressed his gratitude towards the Teachers, Scholars and Students and gave a vote of thanks to all.