WEBINAR ON THE THEME RIGHTS AND DUTIES OF PEOPLE DURING LOCKDOWN PERIOD
ORGANISED BY DEPARTMENT OF LAWS PANJAB UNIVERSITY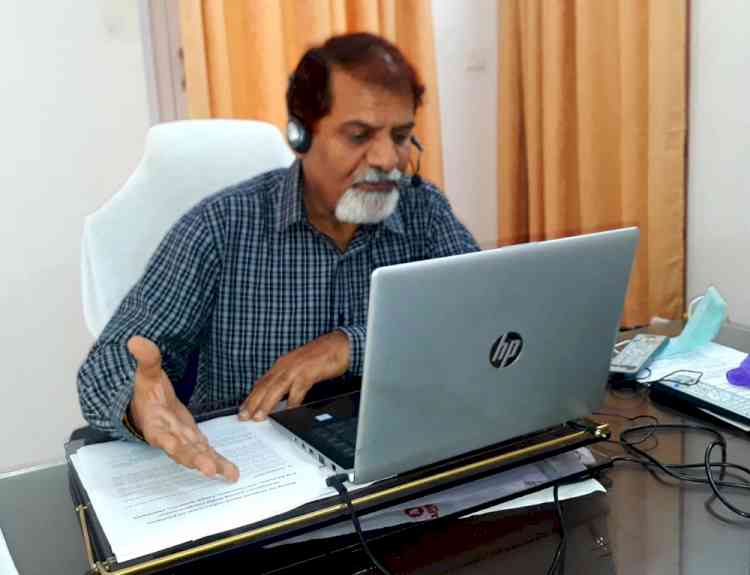 Chandigarh:
Department of laws organised webinar on the theme "Rights and Duties
of people during lockdown period". Prof.Raj Kumar Vice-chancellor of
Panjab University,Chandigarh inaugurated the webinar and gave his good
wishes to the organisers. Hon'ble justice AKTyagi, Judge Panjab and
Haryana High Court presided over the webinar and in his address said
that, "COVID-19 has given the mankind an opportunity to introspect and
go for simpler ways of life and, to maintain ecological balance and
ensure peaceful co-existence of all living creatures".
 Ms Manpreeet Kaur  Asstt. Director(Law) SardarVallabh Bhai Patel
National Police Academy, Hyderabad  said that, 'restraint and
sacrifice is the highest order of humanity , while pressing for our
fundamental rights,it is also our fundamental duty to promote harmony
and spirit of common brotherhood amongst people of India.
 The webinar was well attended by lawyers, law teachers. Prof AK
Pandey,Head and Dean of law deptt. from Uttrakhand also participated.
Prof.Meenu Paul, chairperson Deptt.of Laws thanked all the
participants and expressed her gratitude to Prof.Raj Kumar,
vice-chancellor Panjab University who was the guiding force behind
this webinar.
BRIEF 
Chandigarh:
On the basis of recent Government of India allowing to make
arrangements to send the students to their respective homes, Panjab
University, Chandigarh asked all the wardens to prepare list of
students so that the information could be loaded on the Chandigarh
administration portal to enable  remaining residents in hostels to go
home, informed Prof Emanual Nahar,Dean Student Welfare who also talked
to the UT Nodal officer, MR Rajiv Tiwari.
The Wardens have been asked  that the willing students and also
mess/canteen workers   to register themselves for e-Passes.
He informed that there are around 180 residents in the hostel who are
stuck-up due to lockdown. They need to be reunited with their families
for emotional and their daily need support. They belong to various
states like Haryana, Punjab, Chattisgarh, Bihar, UP, Manipur, J&K, Ladakh
etc.