Webinar on role of women in the time of covid-19 pandemic
The proceedings of the Webinar were conducted by Prof. Monika Aggarwal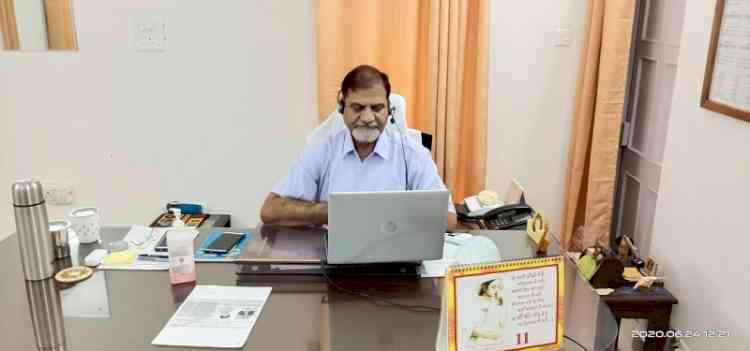 Chandigarh: The Interdisciplinary Centre for Swami Vivekananda Studies in collaboration with Department cum Centre for Women's Studies & Development, Panjab University Chandigarh organized a Webinar on the theme, "Role of Women in the time of Covid-19 Pandemic".  At the outset, Prof. Renu Thakur, Coordinator introduced the Interdisciplinary Center of Vivekananda Studies and welcomed the participants. Prof. Raj Kumar, Vice-Chanellor, Panjab University thanked Ms. Rekha Sharma for sparing her valuable time and speaking on relevant issue. He stressed the need of studying the implications of the global pandemic from a gender lens. He also emphasized for the need of taking precautionary measures to save oneself and the larger community from the highly contagious virus. In his remarks, Prof. V.R. Sinha, Dean Research welcomed the esteemed speaker and underlined the significance of pursuing further research on the contribution of women in this global pandemic. The research regarding contribution of women in tackling this pandemic is extremely important. 
Dr. Rajesh K. Chander, Chairperson, introduced the distinguished Speaker, Ms. Rekha Sharma Chairperson, National Commission for Women. He highlighted various achievements of the speaker.   
Mrs Rekha Sharma in her lucid presentation appreciated the different roles performed by women like ASHA workers and Anganwadi workers, during this global pandemic. She also dwelled upon the issue of rising incidence of domestic violence. The women are not able to complain about domestic violence, as, either, she is not aware regarding the procedures or men are in the house; so she suffers in silence. Further, she cited the example of women helpline number 181, but she opined that people are not aware of this service and calls received on the said number are for some other trivial issues. During the lockdown, the women's roles and responsibilities have increased immensely and coping with this complexity has become difficult, thereby, aggravating mental stress for women. The other ramification is that the woman has no time for herself. Therefore, there is an urgent need of gender sensitization programs for men, so that they co-exist peacefully in society. She also delineated on the plight of the women migrant workers, whom the civil society has included in gender discourse, off late. She complimented the media on highlighting the challenges faced by these women workers. Due to the rising poverty and unemployment, setting up of more Micro-small and Small medium Enterprises (MSMEs) should be encouraged and more such programs are required for relief to them. There is an urgent need for policy formulation and implementation, especially, at the grassroots level for the empowerment of vulnerable women. She articulated the need for the change in the mindset of people, as only change this can bring a change in the status of women, more so in these challenging times.
The proceedings of the Webinar were conducted by Prof. Monika Aggarwal, University Institute of Applied and Management Sciences. The formal vote of thanks was proposed by Prof. Nirmala Chongtham, Department of Botany, Panjab University Chandigarh.