Webinar on "Recent advances in understanding eukaryotic protein synthesis using various interdisciplinary approaches" 
Organized by PG Department of Biotechnology, Lyallpur Khalsa College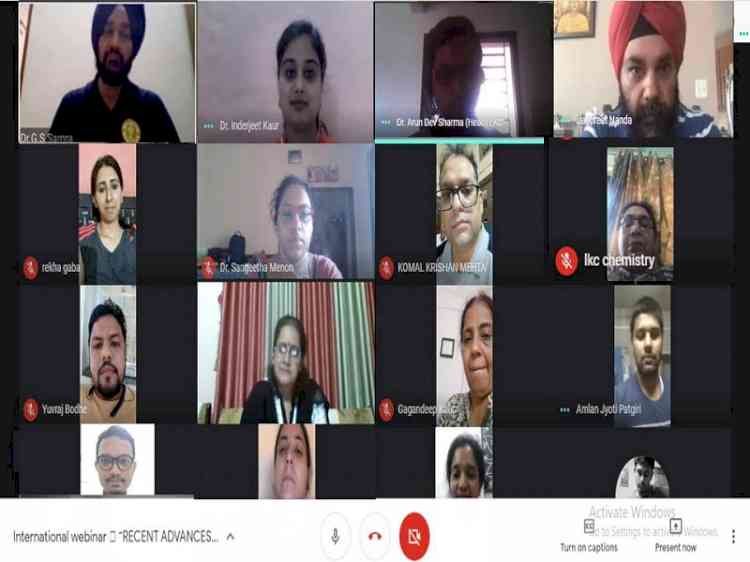 Jalandhar: An International Webinar on "Recent advances in understanding eukaryotic protein synthesis using various interdisciplinary approaches" was organized by Post Graduate Department of Biotechnology, Lyallpur Khalsa College, Jalandhar. 
Dr. Gurpinder Singh Samra, Principal, Lyallpur Khalsa College was the guest of honor of this webinar. The resource person of the session was Dr. Jagpreet Singh Nanda, Staff Scientist, Laboratory on mechanisms and regulation of protein synthesis, NICHD, National Institutes of Health, MD, USA. Dr. Inderjeet Kaur Coordinator of the webinar welcomed Principal Dr. Gurpinder Singh Samra, resource person Dr. Jagpreet Singh Nanda and the attendees. 
The session started with opening remarks by Dr. Arun Dev Sharma, Coordinator-cum-Head Department of Biotechnology. Afterwards, Dr. Samra enlightened the audience about the usefulness of these online tools (webinar) in this lockdown period. Further, he addressed the participants and appealed to maintain social distancing in order to avoid further dissemination of virus. He also suggested taking full precautions regarding the safety measures as prescribed by Govt. and health department for a better welfare of the nation. Dr. Jagpreet Singh started his talk with the basic concept of Central dogma of life. Afterwards, he discussed about the fundamental machinery involved in protein synthesis for prokaryotic and eukaryotic cells. He open-minded the participants with the invitro reconstituted translation initiation machinery in eukaryotes. Furthermore, he convoluted his discussion by giving emphasis on core events of start codon recognition. He conversed about interdisciplinary approaches such as yeast genetics, structural biology and mechanistic biochemistry. He prepared his presentation very instructive and vivacious by throwing light on genetic assay to examine the fidelity of start codon selection in vivo. At the end, he concluded his talk by an interactive session with the participants and inspires the audience with his own journey of success. 
In the concluding session, Dr. Inderjeet Kaur, coordinator of this event proposed the vote of thanks. In this webinar, a total of 550 participants registered from different states of India. Overall, the whole webinar was very enlightening and conversant.