Webinar on physiotherapy of degenerative diseases and their preventive measures and cervical and lumber pain management
Medical experts replied to the various questions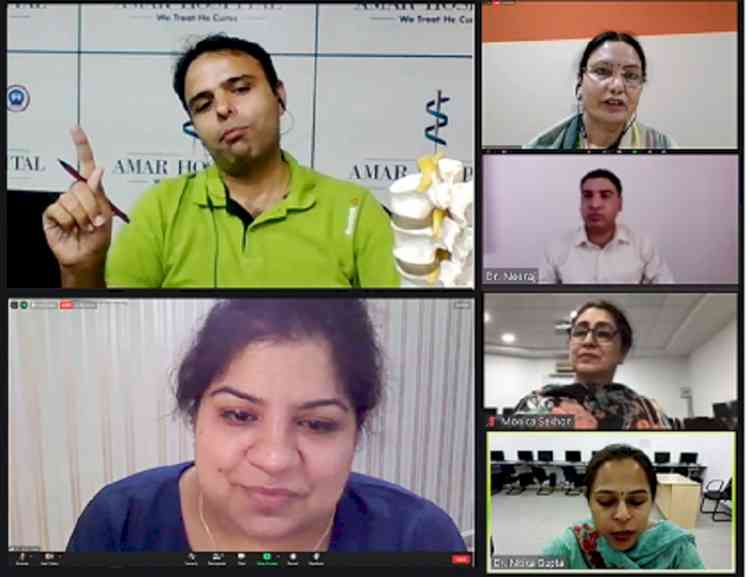 Jalandhar: The Department of Physiotherapy of Apeejay College of Fine Arts, Jalandhar organised a webinar on Physiotherapy of degenerative Diseases and their preventive measures & Cervical and Lumber Pain Management. Dr. Simerjeet Sharma HOD, Physiotherapy, Amar Hospital, Patiala and Dr. Arvin Kaur, Physiotherapist and Child Birth Educator, Chaitanya Hospital, Chandigarh joined the session as panellists. 
Principal Dr. Sucharita Sharma expressed her immense pleasure on having both the Doctors as panellists who are the alumni of Apeejay only. She added to receive them as panellists not only we as teachers are feeling proud but this is inspirational for our other students as well. They will also get inspired from them and give their best to accomplish this stature in their lives. She also added that during this lockdown when everyone is working from home and is consistently working online; this has certainly increased the screen time and as a result there is less physical activity. All this has resulted in various kinds of muscle pains and cervical pain. In this situation, this webinar will be beneficial for all the staff members and students and various other people who join this webinar through Facebook.
Dr. Simarjeet Sharma suggested to eat balanced diet full of proteins, calcium, minerals etc and also to add exercise in our regular day to day life.
Dr. Arvin too supported this idea and put forth that various yoga asanas like kobra asana, bhujanga asana, which helps in stretching the body should be performed. Talking of Osteoarthritis, the doctors put forth that if it is in initial stage then under the directions of doctors, light exercises should be performed but if it has reached an advanced stage then one should opt for knee replacement.
Both the doctors were on the same page when the students of Physiotherapy asked about the possible solution of knee pain, back pain, increasing obesity. They replied that without any doubt the balanced diet and regular exercise is the unquestionable solution of this.
Principal Dr. Sucharita Sharma congratulated the Department of Physiotherapy for successfully organising the webinar.