Webinar on "Global Bharat Movement for MSMEs of Punjab"
More than 100 participants took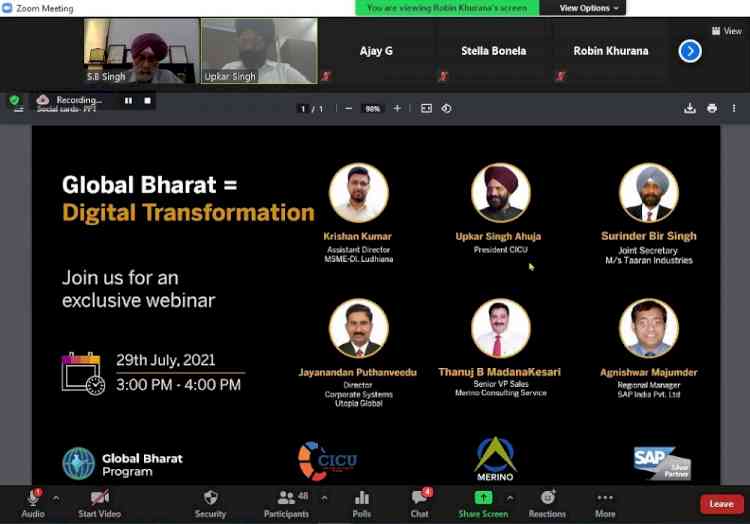 Ludhiana: A webinar on "Global Bharat Movement for MSMEs of Punjab" to make them Future-Ready was conducted by CICU in collaboration with SAP. More than 100 participants took part in this Webinar. 
S. Upkar Singh Ahuja, President, CICU mentioned that MSMEs in Punjab are slowly getting back to normal post the second wave of the pandemic. It is important more than ever for them to become go digital in order to ensure business continuity and stay relevant. Therefore, we are bringing the Global Bharat movement along with SAP to the local MSMEs of Punjab to ensure that businesses leverage technology in order to grow their skills, adopt new technologies and become globally competitive. 
Mr. S.B Singh, Joint Secretary, CICU moderator the event and mentioned that as we witness a digital revolution with businesses evolving rapidly by adopting new-age technologies, there is a growing need for Indian MSMEs to go digital in order to stay relevant and compete in the changing business environment. Chamber of Industrial & Commercial Undertaking (CICU) along with SAP has brought the Global Bharat movement to the local MSMEs in the state of Punjab, enabling them to become future-ready. The movement will work towards empowering the local MSMEs to become globally competitive by providing them access to the global marketplace, digital skilling their workforce and technology to transform their business processes. 
Mr. Krishan Kumar, Assistant Director, MSME-Development Institute, Ludhiana emphasized the importance of digital transformation. 
Mr. Agnishwar Majumder, Regional Manager, SAP India Pvt. Ltd formally launched the Global Bharat Program for MSMEs.  
Mr. Thanoj Madankesari Senior VP sales Merino Service briefed about the services being provided by Merino Service. 
Mr. Jayanandan Puthanveedu Director, Coprporate Systems, Utopia Global shared his experience as a satisfied customer of services of SAP.  
Mr. Subramanian Ananthapadmanabhan, Vice President, Mid-Market, SAP Indian Subcontinent shared that in endeavor of SAP to digitally transform India's 63 million MSMEs, the Global Bharat movement was launched last year to enabling the micro, small and medium enterprises of the country to adopt technologies and help them compete on a global level. Now, in order to support the growth of businesses in the state of Punjab, SAP has brought the Global Bharat movement to the local businesses along with CICU. With this SAP has taken another step forward in fulfilling commitment of SAP empowering our MSMEs to become future-ready. 
Digital transformation and sustainable development being the norm for businesses to thrive and grow in the current pandemic situation. Global Bharat will allow MSMEs in Punjab to go digital through new-age technologies that will drive greater efficiencies for their business. The Global Bharat movement provides them with Access to Global Marketplace, Digital Skilling, and Digital Transformation.