Webinar on "future trends in fashion: looking good despite the virus" 
Speakers say fashion is an attitude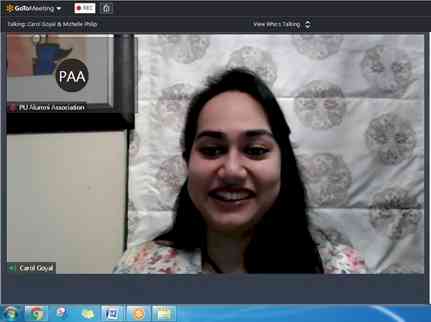 Ms. Carol Goyal.
Chandigarh: Panjab University Alumni Association under the guidance of Prof. Deepti Gupta, Dean Alumni Relations, organized a Webinar on "Future Trends in Fashion: Looking Good Despite the Virus" by Ms. Carol Goyal. Ms. Goyal is a Masters in Art Business from the Sotheby's Institute of Art, London and New York. She has been in advertising and media, working on clients as diverse as Star TV, Thailand Tourism, Tata Power, Tourism Bulgaria and Kansai Nerolac. Carol is a regular columnist on art and intellectual property, current trends in fashion, writing for publications like Business Standard, Business World, Economic Times and Campaign.  Ms. Goyal is based in Mumbai.
Ms. Goyal explained that fashion is not just about what you wear. Fashion is an attitude. All of it does not need to have changed or wilted under the onslaught of the pandemic. The basic tenets of fashion will remain the same; the accent may change because of changed circumstances and environment. She discussed the changes that will come in clothing, accessories and in the cosmetics industry. She showed interesting new accessories like sun glasses with broader fames and cameras, umbrellas, embroidered masks etc.
One of the highlights of the webinar was the interactive session with the participants. Many interesting questions were asked and the presenter gave equally interesting answers. The webinar was attended by students, faculty, homemakers and people from all walks of life.
The webinar ended with a vote of thanks from PUAA. A lot of positive feedback and congratulatory messages for the presenter and the organizers poured in on the webinar chat and the Whats App group created for the event.
The next event PUAA is organizing is on 9 July, 2020. It is on the topic 'Intellectual Property Rights' by Prof. Rupinder Tewari, Chief Coordinator, DST- Centre for Policy Research, Panjab University.  The poster and details will be out soon.