Webinar on "Design Registration Process: An Insight" At UIFT & VD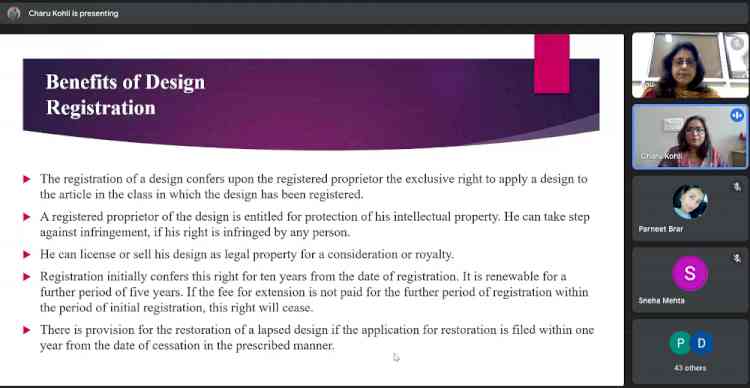 Chandigarh, November 29, 2021: University Institute of Fashion Technology & Vocational Development (UIFT & VD) Panjab University Chandigarh held a lecture series Learn the ropes with Alumni by Dr. Charu Kohli, an expert in textiles on Design Registration Process: An insight. She pursued her PhD from UIFT, PU and developed a prototype for a reusable baby diaper.
Dr. Anu H. Gupta, Chairperson, UIFT & VD, welcomed and appreciated Dr. Charu Kohli on her success in obtaining design registration for the reusable baby diaper. She also emphasised the significance of intellectual property rights for fashion design and technology experts.
Dr. Charu Kohli shared her experience of registering a reusable baby diaper design. She elaborated on prerequisites and the procedure of filling out the documents to be submitted to the Design Wing of the Patent Office, which is located at the Intellectual Property Office in Kolkata, Delhi, Mumbai, and Chennai. She expounded on the terms "copyright, patent, and trademark," instructing students on the distinctions between the three. She explained registration sheet samples and design classifications. She emphasised that students should not be scared to take risks and step outside of their comfort zone in order to gain greater exposure and urged students who conduct study on designing products to register their designs.
Students expressed interest in the webinar, which concluded with the resource person answering questions on filling and filing the application for the design registration. Around 50 students and alumni joined the webinar, which was organised by Ms. Parneet Brar, guest faculty at UIFT.