Webinar on contribution of Arya Samaj during covid organised at DAVIET
The aim of the webinar was to educate the faculty and students about contribution of Arya Samaj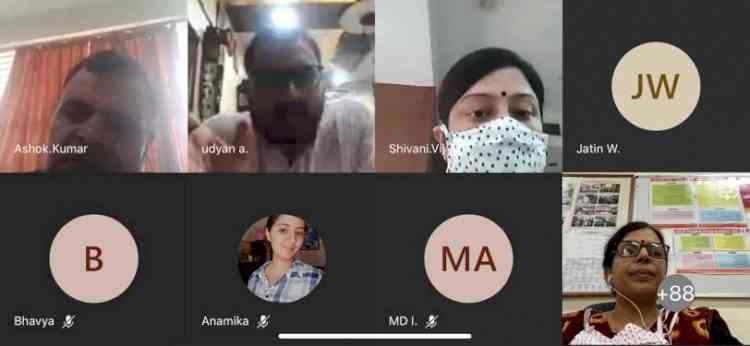 Jalandhar: The Human Values Cell of DAV Institute of Engineering and Technology, organized a webinar on "Contribution of Arya Samaj during COVID 19". Dr Udyan Arya, Vedic thinker and Principal, Swami Virjanand Gurukul College, Kartarpur was the Resource Person. The aim of the webinar was to educate the faculty and students about contribution of Arya Samaj to propagate emotional and spiritual awakening to lead a balanced life during COVI-19. 

Dr Kanchan L Singh, Convener Human Values Cell  of the institute welcomed the resource person. She highlighted the fact that the current times are unprecedented and it is only by seeking inspiration from the Vedic way of life enshrined in the Arya Samaj ideals that we can lead a balanced and healthy life.

Dr. Manoj Kumar, Principal, DAVIET welcomed Dr Udyan Arya  to the Institution. He advised the participants to be an AARYA which means the best in whatever they did irrespective of their religion. He also urged them to cast aside their ego which is a major detriment in growth and progress of an individual. He shared that because of the spread of the pandemic society is at the crossroads. The modern way of life cannot safeguard us from the looming threat, so the need of the hour is to be attuned with our Vedic roots which Arya Samaj truly stands for.

Dr Udyan Arya, in his key note address shared with the audience that we need to be more humane to create a just society.  While elaborating the contribution of Arya Samaj, he stated that it stands for the Vedic ideals and has encouraged the use of namaskar as a universal and religious neutral greeting. Its importance has increased a lot in the current pandemic  and social distancing is the norm. He also highlighted the fact that followers of Arya Samaj are vegetarian and today the world knows the importance of turning vegetarian. He also elaborated the importance of Havna Yajna and shared that when it is done nano particles are released which purify everything around. The key note address was followed by question answer session. In all around 150 participants in the webinar

Dr Ashok Kumar, Associate Professor, extended the Vote of Thanks and hoped that everyone gained a lot from the webinar.