Web lecture on NEP at PU
The participants interacted with the speaker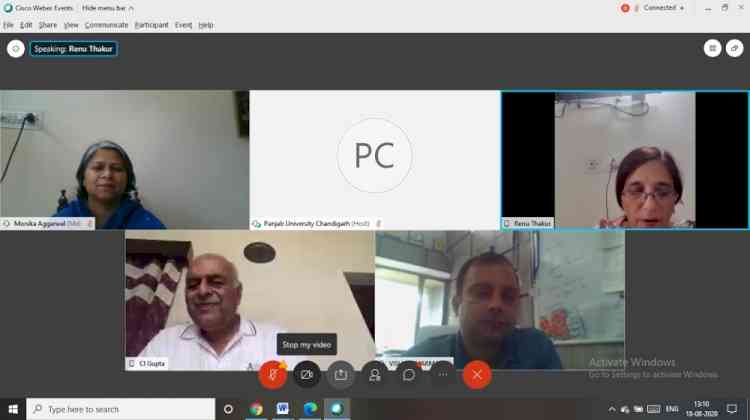 Chandigarh: The Interdisciplinary Center for Swami Vivekananda Studies,Panjab University organized a Web lecture on the Salient Features of NEP 2020  by Prof.Chaman Lal Gupta, Vice -Chairman, Governing Body Institute of  Advanced Study,Rashtrapati Nivas, Shimla.

Vice Chancellor Prof.Raj Kumar welcomed the speaker and highlighted the main features of NEP 2020. The NEP 2020 aims at that the learning should be holistic, integrated, enjoyable and encouraging. This policy envisions an education system rooted in Indian ethos that will contribute to transform our country into a global knowledge superpower. He categorically stated that while implementing the provisions care should be taken of the infrastructure in place.Thus the implementation cannot be same for all. The clear road map with identified priorities will help us to achieve our goals.

Prof Chaman Lal Gupta in his presentation threw light on the main features of NEP 2020.In his view this policy will prove as a game changer and benefit us all in understanding our cultural traditions will help us to connect to our roots. The teaching in local languages will help us to bring forth rare manuscripts which are lying unattended.The young students will not suffer in schools because of less number of teachers available but the school clusters will take care of them.The teachers are at the centre of the fundamental reforms in the education system.

The new education policy must help re-establish teachers, at all levels, as the most respected and essential members of our society, because they truly shape our next generation of citizens. It must do everything to empower teachers and help them to do their job as effectively as possible. The new education policy must help recruit the very best and brightest to enter the teaching profession at all levels.The new education policy proposes to  provide to all students, irrespective of their place of residence, a quality education system, with particular focus on historically marginalized, disadvantaged, and underrepresented group. SCZ  special zones will be created for them to meet their requirement. All curriculum and pedagogy, from the foundational stage onwards, will be redesigned to be strongly rooted in the Indian and local context and ethos in terms of culture, traditions, heritage, customs, language, philosophy, geography, ancient and contemporary knowledge, societal and scientific needs, indigenous and traditional ways of learning etc. – in order to ensure that education is maximally relatable, relevant, interesting, and effective for our students. Stories, arts, games, sports, examples, problems, etc. will be chosen as much as possible to be rooted in the Indian and local geographic context. It must prepare students for more meaningful and satisfying lives and work roles and enable economic independence.For the purpose of developing holistic individuals, it is essential that an identified set of skills and values will be incorporated at each stage of learning, from pre-school to higher education.

Higher education must form the basis for knowledge creation and innovation thereby contributing to a growing national economy. The purpose of quality higher education is, therefore, more than the creation of greater opportunities for individual employment. The main thrust of this policy regarding higher education is to end the fragmentation of higher education by transforming higher education institutions into large multidisciplinary universities. Such a holistic education shall be, in the long term, the approach of all undergraduate programmes, including those in professional, technical, and vocational disciplines. This policy aims to overcome the social status hierarchy associated with vocational education and requires integration of vocational education programmes into mainstream education in all education institutions in a phased manner. Beginning with vocational exposure at early ages in middle and secondary school, quality vocational education will be integrated smoothly into higher education. It will ensure that every child learns at least one vocation and is exposed to several more. This would lead to emphasizing the dignity of labour and importance of various vocations involving /Indian arts and artisanship.

The participants interacted with the speaker. The interactive was moderated by Dr.Vishal Sharma. Dr.Monika Aggarwal conducted the proceedings and Dr.Renu Thakur, Coordinator ICSVS proposed the vote of thanks.