Virtual panel discussion on emerging HR challenges and solutions during pandemic at GNA University
On the whole, the lecture was fruitful for every student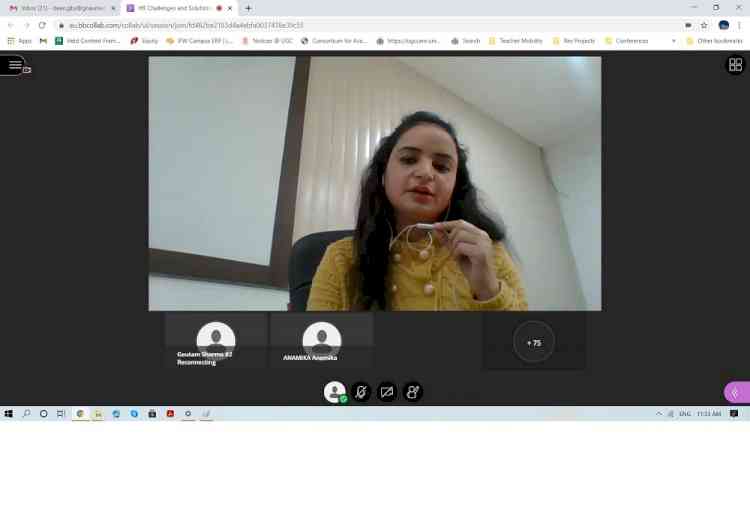 Jalandhar: GNA University organized an Online Guest Lecture cum Panel Discussion on Emerging HR Challenges and Solutions during Pandemic for the budding students of GNA Business School via the online platform of Blackboard Software.
The Resource Person & Panellists for the day were Mr. Gautam Sharma- Manager HR, ITC Ltd, Kapurthala, Ms. Daisy Deol- Assistant Manager HR, from ITC, Ms. Vaishali Lamba- HR Manager, Bonn Nutrients, Ludhiana and Dr. Jagdeep Singh, Deputy Dean of GNA Business School.
The lecture started with a warm welcoming of the noble speakers of the day by Dr. Jagdeep Singh, Dean- GNA Business School and the faculty members of GBS. The main objective behind this guest lecture cum panel discussion was to address the students towards different challenges that were encountered by these resource persons after lockdown for their employees.
Mr. Gautam, Ms, Daisy & Ms. Vaishali then went on to elaborate these challenges one by one and also laid down the solutions that they had encountered to tackle these challenges in a sound manner in their respective organizations. They also went on to discuss different initiatives taken by ITC Ltd. & Bonn Nutrients to manage such issues.
On the whole, the lecture was fruitful for every student wherein they gathered many realistic views into the strategies to manage HR challenges in the present COVID situation. There was an active participation by the students in the session as well as the faculty members where many questions related to different challenges and their outcomes were raised by them. The panellists then had a one to one interaction with the students wherein many of their questions and queries were answered. Thus, the lecture ended on a learning note.
Mr. Gurdeep Singh Sihra, the Pro-Chancellor, GNA University expressed, "I appreciate the endeavours of the Department for organising such trending lectures for the students of GBS."
Dr. VK Rattan, the Vice-Chancellor, GNA University said, "The University is always ready to offer the best to our GUites in all the various upcoming spheres."
Dr. Monika Hanspal, Dean Academics, GNA University said, "I am really happy to witness the active participation of the faculty and the students in these Guest Lectures."