Virtual convocation 2020 at GNA University
Nearly 240+ GNA University students were awarded degrees in the various programs of engineering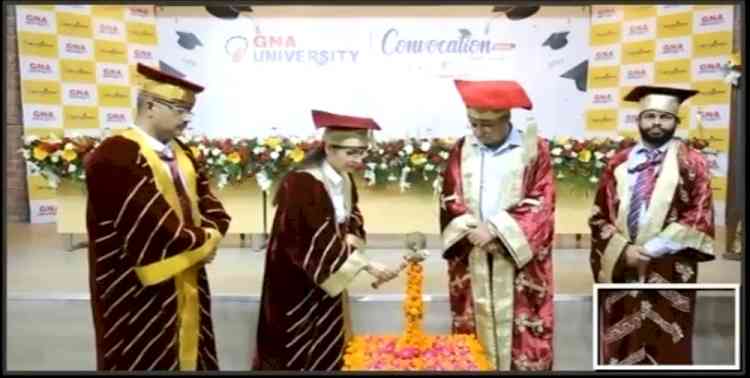 Lamp lighting for virtual convocation.


Jalandhar: GNA University keeping the unprecedented moments of COVID19 intact organized its first Virtual Convocation of 2015 batch of Engineering students of various branches- Mechatronics & Automation Engineering, Mechanical, Aerospace, Computer Science & Engineering, Automotive, Mechatronics, Civil & Electronics & Communication Engineering in the benign presence of the worthy Chief Guest cum Pro-Chancellor of the University, S. Gurdeep Singh Sihra, the renowned business tycoon spearheading the internationally established group of Gear Manufacturing Company, GNA Gears as the Director & CEO                            .
The Vice Chancellor – Dr. VK Rattan, Dean Academics- Dr. Monika Hanspal, the Registrar – Dr. RK Mahajhan, the Dean Faculty of Design & Innovation- Dr. CR Tripathi and the Dean Faculty of Engineering- Dr. Vikrant Sharma graced the auspicious occasion of Virtual Convocation 2020.

On the special and the most awaited occasion of the virtual academic event, S. Gurdeep Singh Sihra honoured 25 toppers of different Engineering programs bagging gold, silver and bronze medals. Nearly 240+ GNA University students were awarded degrees in the various programs of Engineering.

Mr. Gurdeep Singh Sihra, the Pro-Chancellor, GNA University cum the Chief Guest during his Presidential Address emphasized that the degree recipients should constantly ponder over the possibilities for the application of the latest updates happening in their sector to make a positive impact on the quality of life of the people. He congratulated and encouraged them to spread their acquired knowledge across the globe and prove to be an asset to your alma mater.

Dr VK Rattan, the Vice-Chancellor, GNA University in her Convocation address reminded the degree recipients the worth of education in preparing the foundation of a strong mind, hence, a strong nation, and that the responsibility to fulfill the vision of the nation lies on their young shoulders.

Dr. Monika Hanspal, Dean Academics, GNA University in her Welcome address congratulated all the degree recipients for the commencement of a new phase of their life. She stated that in a situation where the country is struggling hard to solve the problem of unemployment, the students graduating today are among the few privileged to pay tribute to their 'Gurus' despite the unprecedented days of COVID19.

Dr. RK Mhajhan, the Registrar, GNA University during his Vote of Thanks duly thanked all the Award Winners and the alumni seeking degrees for joining whole-heartedly over the virtual interface. He wished them success in their career and stressed on being honest and committed for what they aspire and keep a clear vision in life. In his thanksgiving, he lauded the role of GNA Group both in industry and education and hoped that this would provide opportunities to the local youth in having access to high quality education which will enable them to get employment across the globe. 

Overall the Virtual Convocation 2020 happily culminated with the National Anthem with the brimming faces of all the degree recipients.