Use of millets advocated in home science sports meet
2-day sporting event including semi-finals and finals began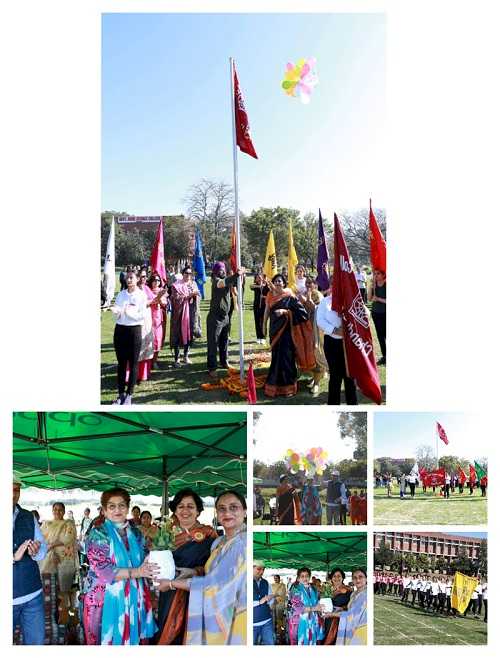 Chandigarh: Government Home Science College Sector-10 Chandigarh celebrated its 55th Annual Athletic Meet with great zeal and fervor on March 9. The two day sporting event including semi-finals and finals began with inauguration by Prof. Sudha Katyal, Principal of the College, followed by the unfurling of the college flag and oath taking ceremony.
The event began with the marching of coordinated footsteps of students in the parade led by the sports captain Ankita. The lighting of the Presidency Torch was carried by sports stars of the college, Shweta Kadiyan, Kanika Lubana, Priyal Kaushik, Jaspreet Kaur Sohal and Muskan Mathur.
The day was filled with excitement experienced amidst thrills, shrills and cheers. Mrs. RajBala Malik, Mayor, Chandigarh was the Chief Guest. She congratulated the college to carry out the initiative of not just spreading the message of fitness on the sports field but also advocating the use of millets in our daily diet and emphasizing on healthy eating.
Maheshinder Singh Sidhu, Councillor of Ward no.1, was the Guest of Honour for the day. Principal Prof. Sudha Katyal gave a floral welcome to the chief guest and introduced her to the audience.
 
Students, teaching and non- teaching staff enthusiastically participated in various events like three legged race, long jump, shotput, javelin, discuss throw, sack race, obstacle race and other track activities. The most enthralling event was the musical chairs. All impressive performances of Yoga, Aerobics and ludi/ Bhangra dance by the students kept the audience enthralled.  The chief guest congratulated the prize winners and motivated the students to perform with same zeal and fervor in all future endeavors. Supriya Chandel of BSc. Fashion Designing 4th Sem was declared as the best athlete. The event was supported and sponsored by Oppo and Red FM umbrellas. Unichem's feminine hygiene brand Sofy collaborated with the college in this event to create awareness about maintaining hygiene in routine life.
 
The Principal, Prof. Sudha Katyal expressed her gratitude to all the teachers for their cooperation and support and advised students to keep up their sportsman spirit. The function concluded with the flag retreat ceremony and giving away of vote of thanks by Mrs Mona Soin, the Sports Incharge.