`Ultimate Classic Mr North India 2020' Bodybuilding and Physique Championship to be held in Tricity
Fitness International Federation India Chief: No dearth of talent in bodybuilding, now sponsors need to come forward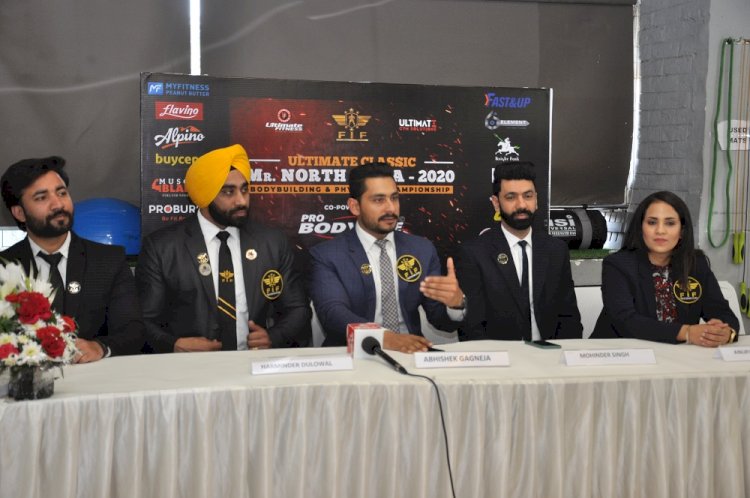 Organisers and senior office bearers of Fitness International Federation (FIF) interacting with media to share details about the upcoming 'Ultimate Classic Mr. North India 2020' Championship.
Chandigarh: 'Ultimate Classic Mr. North India 2020' Bodybuilding & Physique Championship is all set to be held  at the Auditorium of Government Multispecialty Hospital (GMCH), Sector 32, Chandigarh on March 7, 2020(Saturday). The competition will start 3 pm onwards.
The mega competition is being organised under the banner of Fitness International Federation (FIF), India. The details of the upcoming bodybuilding competition were shared by the organisers and senior office bearers of FIF India during the press conference held at Ultimate Fitness Gym, Sector 46, Chandigarh.
While addressing the gathering, Abhishek Gagneja, Founder of Ultimate Fitness Gyms and President, FIF Chandigarh said, "We are glad to announce that the Ultimate Classic Mr. North India 2020 will be held in tricity. Around 400 athletes including men and women from across India are expected to participate, and vie for coveted titles. The overall bodybuilding champion will get a chance to participate in Mr. Asia Singapore, which will be fully sponsored."
Anupam Kaur, Head of Operations, Ultimate Fitness Gyms and Secretary FIF, Chandigarh said, "In the event the participants will compete in  different weight & height categories in events like Body Building, Men's Classic, Men's Physique, Junior Bodybuilding and Women's Fitness Figure and a whopping Rs 5 lakh is the total prize money earmarked for the top 5 winners in each category."
In Junior Bodybuilding there is an age criteria that the participant should be below 23 years of age. Women's Fitness Figure does not have any weight , age or height criteria.
 
Harminder Dulowal, President, Fitness International Federation (FIF) highlighted that, "In India there are lot of young bodybuilders, who have the capabilities to win International prestigious bodybuilding titles like Muscle Mania and Arnold Classic but due to lack of lack of platforms and sponsors they are not able to achieve that kind of success. It is now time for corporates & sponsors to come forward to support talented bodybuilders"
Adding to this, Mohinder Singh, Vice President (FIF) India said, "Events like the Ultimate Classic Mr. North India 2020 will work as a boon for all the body builders, where they can showcase their talent."
Following Mohinder, a renowned bodybuilder Puneet Sandhu said, "Bodybuilding sport is the fastest growing sport in India. In the past few years a lot of changes have come in fitness industry. Earlier very few bodybuilding competitions were held, these have increased over the period of the last few years. Budding bodybuilders can even opt for bodybuilding as a professional career."
Many female body builders are slated to take part in the competition. Off late many women are coming forward in the bodybuilding championships and even taking it up as a career. Bodybuilding is a very expensive sport and is recognised less in India as compared to other countries. The 'Ultimate Classic Mr. North India 2020' will help in giving the sport a fillip.