UIFT'S second alumni lecture: Startup as a fashion influencer
Around 70 students joined her webinar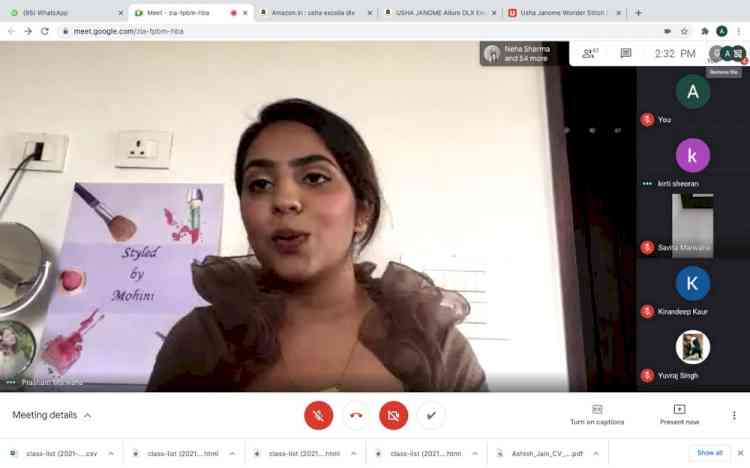 Chandigarh: Second lecture series 'Learn the ropes with alumni' was held today at University Institute of Fashion Technology & Vocational Development(UIFT &VD),  Panjab University Chandigarh with Mohini popularly known as Styled by Mohini, an Instagram Influencer and a YouTuber.  She pursued her graduation and post-graduation in Fashion and Lifestyle Technology from UIFT, PU and creates content on Fashion, Beauty, Travel and Lifestyle. After completing her Masters, she is a full-time content creator with 22,000 followers on Instagram.
She shared her journey with the students, the main focus was to motivate them so that they can also start their own business even in a non-conventional field like content creation. She started with fashion styling videos and then slowly expanded her horizon to different genres and then added beauty, travel and lifestyle as well. She spoke about her series called "#TalkWithM" in which she gives motivational talks about different topics, her interviews with various doctors for spreading awareness about women health on her YouTube channel, her latest series about creating outfits from scratch and her styling projects that she undertook with wow womania and many other projects. She also elaborated that how she works in collaboration with many leading brands like Nykaa, Maybelline, L'Oreal, Revlon, Urbanic, Derma co., Mcaffine, Kalki fashion, Plum goodness etc.  
According to Mohini "Consistency and hard work are the key to success". Her journey inspired and motivated many participants to think about startups in line of their interest. Appreciating hard work and dedication of Mohini, Dr Anu H. Gupta, Chairperson UIFT & VD remarked that Passion of an individual if pursued consistently can create wonders and lead to successful startups.
Around 70 students joined the webinar. She spoke about "Startup as a Fashion Influencer" to the current students of the department.