Tree plantation drive at Boys' Hostel No. 3
Saplings of trees like Peepal, Bargad, Sheesham, Neem, Bel Pathar, Kathaletc.,were planted in the hostel premises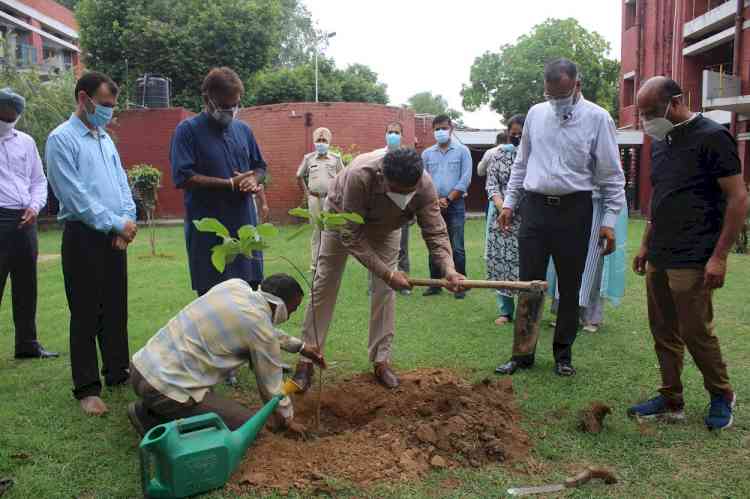 Chandigarh: A tree plantation drive was organised by Boys' Hostel no. 3 which was graced by Sh. RS Verma, IAS, Managing Director, Haryana Tourism and Registrar, Cooperative Department Haryana. Sh. Verma appreciated the efforts of the University for planting trees on such a mass scale as plantation drive is being currently conducted by different hostels, departments and NSS units of Panjab University.
Tree plantation during the monsoon season will surely lead to increase in green cover of the area to provide clean and safe air for inhalation. Such drives are urgently needed during the current challenging times of COVID-19 when news are coming that new delta variant of virus spreads fastly in foul air, Sh. Verma stressed. He sensitized the hostel residents and staff to plant more and more trees to be safe from adverse effects of climate change. He narrated a number of lifetime experiences in his bureaucratic life when trees planted roadsides saved many lives.  
Prof. Ashok Kumar, Associate Dean Student Welfare  stressed for the utmost care of newly planted saplings till they are sufficiently strong enough in the soil to survive for growing into trees.
Saplings of trees like Peepal, Bargad, Sheesham, Neem, Bel Pathar, Kathaletc.,were planted in the hostel premises.
Dr. JS Sehrawat, Warden, Boys' Hostel No. 3, Dr. Ravneet Kaur, Warden (GH-3), Rajeev, Warden (BH-1), Dr. Tilak Raj, Warden (BH-2) and Dr. Makhan Singh, Warden (BH-5) were present on the occasion.