Training programme on redressal mechanism 
The training was organized in online and offline modes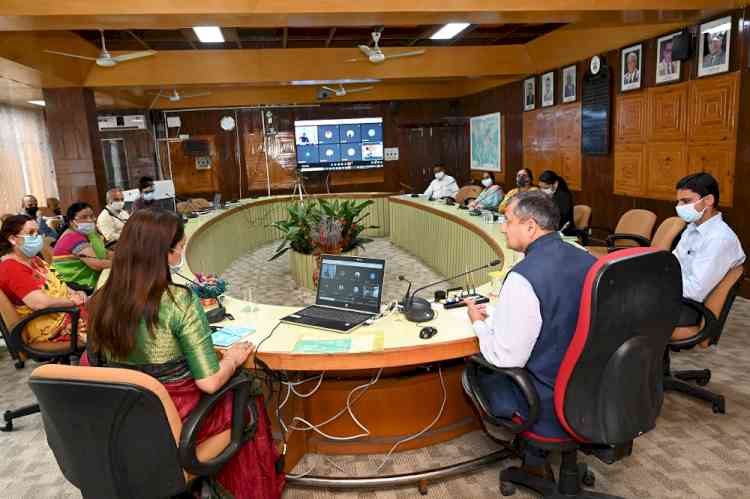 Nauni (Himachal Pradesh): A one-day training programme on the redressal mechanism of Sexual Harassment at Workplace (Prevention, Prohibition and Redressal) was held for the members of the Internal Committee of Dr. YS Parmar University of Horticulture and Forestry, Nauni. The training was organized in online and offline modes by the Himachal Pradesh State Commission for Women in collaboration with the National Commission for Women.
Dr. Daisy Thakur, Chairperson of the State Commission for Women, was the Chief Guest on the occasion. Dr. Parvinder Kaushal, Vice-Chancellor and Registrar Prashant Sirkek along with committee members took part in the training session. Anuj Sharma, law officer of the Women Commission gave a detailed presentation on the Act and its background along with the constitution of the Internal committees in institutions. He also explained the role of its members. He addressed the queries of the members on various legal aspects related to the complaints. He also apprised the participating members about how to address the complaints and how to conduct an inquiry.
Addressing the participants, Dr. Daisy Thakur stressed on the need to sensitize all the staff and students about the committee and how they could be approached in case of any grievance. She said that the names of the committee members should be prominently displayed on the campus.Dr. Daisy said that there was a long demand to train the members of the committee so that they perform their duties properly as per the Act. and therefore the training was organised. She also urged the members to ensure confidentiality in such cases and give a proper opportunity to the respondents.  
Thanking the Women Commission for organizing the training, Vice-Chancellor Dr. Parvinder Kaushal said that the information provided to the members of the committee will go a long way in spreading awareness about the topic. He asked the members to implement the information gained in the training to improve their working. Dr. Kaushal said that everyone must be made aware of these laws and the redressal mechanism. He suggested that along with regular trainings for the members, this information could also be provided to students through virtual mediums like webinars in collaboration with the State Commission for Women.
Dr. Sunita Chandel, Dr. Meenu Sood, Dr. DP Sharma, Dr. RK Aggarwal, Seema Verma and Neelam Thakur, members of the Internal Committee of two colleges at the main campus attended the training. The members of the Internal committees of the two outstation colleges at Neri and Thunag also participated in the event virtually.