Top officials from Birmingham City University visit project STEAM house at MBSI
Top officials from Birmingham City University visit project STEAM house at Munjal BCU School of Innovation and Entrepreneurship (MBSI) today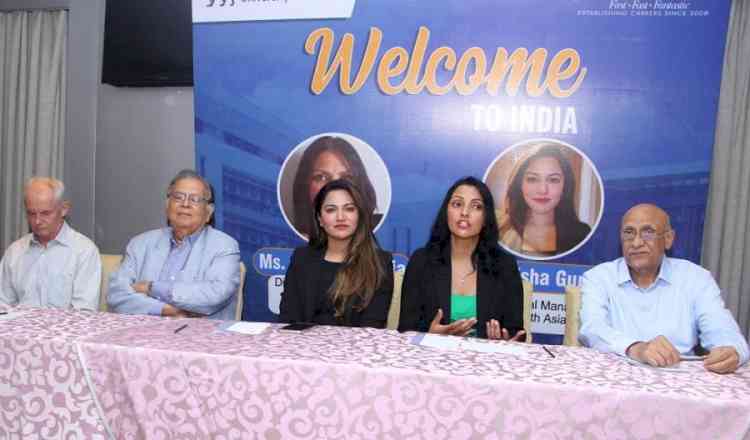 Ludhiana, May 25, 2022: The Birmingham City University and Munjal Group project BCU Centre of Innovation and Entrepreneurship Centre is now fully functional. Top varsity officials visited the project to take an overview of the operation on 25 May 2022. The varsity officials also connected with aspirants eyeing to explore UK as overseas education destination.
Birmingham City University is one of the largest universities in UK and is expanding its footprints across the globe via innovative collaborations. The Steam project is one such collaboration that will offer world-class training and skill enhancement to youths.
The centre has been established as part of the collaboration between Birmingham City University and Munjal Group. The project STEAM House was developed under the umbrella of the Munjal BCU School of Innovation and Entrepreneurship (MBSI). It aims at promoting innovation and entrepreneurship and will cater to the needs of the business industrial sector of the state.
Regional Manager South Asia, Birmingham City University, Disha Gupta says, "With around 24,000 students from 80 countries, Birmingham City University is a large and diverse place to study. We put students at the heart of everything we do, giving them the best opportunities for future success. We are the University of Birmingham. We have a confident, proud, and diverse community of students at BCU, who are striving to achieve their career goals and transform their lives."
Addressing the media person in at a press conference held here today, ParmilaMurria, Director of International Recruitment and International Office stated, "At Birmingham City University, our mission is simple – to be the University for Birmingham and to enable our students to transform their lives and to achieve their potential. Through our education and research, and the roles our graduates go on to play in the world, we not only support individuals to transform their lives, but we also play a part in transforming society. We also show our students that there are no barriers to their success."
The new facility is equipped with world-class infrastructure and faculty, aiming to transform the higher education of Punjab state and promote entrepreneurship in the region. MBSI plans to take a steam (science, technology, engineering, arts, and mathematics) oriented approach to higher education. The idea is to use the strengths of each of these streams to stimulate innovation and productivity. Steam house, pioneered by Birmingham City University, is designed as a centre for innovation, research, and creative production where technology, art, and design are used to nurture innovation and creativity.
Among others, S. K. Rai, Managing Director, Hero Cycles Ltd was present at the press conference.