Thousands connect online in fitness tribute to Shaheed Bhagat Singh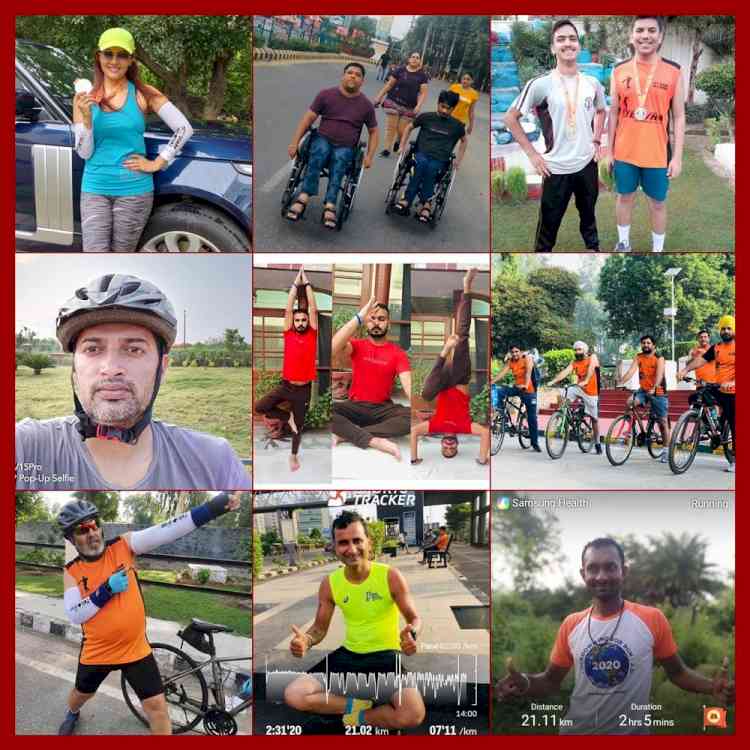 Over 4000 enthusiasts across the world paid homage in the form fitness activities on the occasion of his birthday
 
Ferozepur: They came in all shapes and sizes, ages and backgrounds. From six years olds to Eighty Six. They came running, on wheelchairs, on cycles, and did Yoga Asans. Novices and Professional athletes. Indians and their friends across the length and breadth of not only the country, but the entire world. Kashmir to Kanyakumari, Arunachal to Vadodara, Mumbai, Delhi, Chennai, Kolkota, Bangalore, USA, UK, South Africa, Oman, Canada, Bangladesh.. all connected in a virtual event that promoted fitness during Covid times, and remembered the great freedom fighter Shaheed Bhagat Singh.
 
In a unique initiative and a fitting tribute to the inspirational revolutionary Shaheed Bhagat Singh, over 4000 enthusiasts across the world paid homage in the form fitness activities on the occasion of his birthday. The Shaheed Bhagat Singh Fitness Days 2020 was organized as a two day Virtual event, with participants booking their slots online, and doing fitness related activities in their own locations. The two fold aim of this event was to spread awareness of Shaheed Bhagat Singh, as well as about the importance of fitness in COVID times when people are shackled to their homes.
 
Taking part in a Running, Yoga, and Cycling event organized by Colonelz SharpShooterz of Jalandhar, with co-organisers Team Teevra and Everest Sports Academy, people cut across age, language and distance barriers to pay their respects to the great freedom fighter. Some ran in the open, some on treadmills in their homes, some even on wheelchairs. Cyclists covered huge distances in a matter of a few hours, while Yoga enthusiasts did exercises in their sitting rooms, on terraces and even parks.
All government guidelines on COVID-19 were strictly adhered to during the event. There were no physical gatherings, and most people carried out individual activities only.

The event was organized in a most flexible manner. People who were starters in the fitness world ran, walked or cycled a couple of km, while the pros did amazing distances of half marathon level (21 km) and even beyond. Several people cycled well beyond 100km. The longest distance covered was over 230km. Several beauty queens, and fitness enthusiasts were the flagbearers of the event, and contributed in kind by running, cycling or doing Yoga on 27th and 28th September.
 
Yoga was done by school children, teachers, housewives, Yoga specialists. Surya Namaskar and Yoga Asans were practiced and done with perfection to send across the message of fitness. Schools such as DPS Jalandhar and APS Beas encouraged their children to take part in large numbers.
 
There were three major categories in the event.. Running, Cycling and Yoga. The first two were further subdivided into basic and advanced categories. The basic categories were designed to initiate the new entrants into the fitness world, and included running upto 5km, cycling upto 10km. Advanced category for running included slots of 10, 21, 42km, and more than 42km. For cycling the slots were 30, 50, 100km, and more than 100km. Yoga had pre-defined protocals of Surya Namaskar, set of Yoga Asans, and  Chair Yoga for those who cannot do strenuous exercises.
 
As per the organisers, some of the most satisfying moments came when the paraplegics of the Spinal Cord Injury Association undertook a 5km race in Jalandhar, as well as in Amritsar. The enthusiasm of these wheelchair bound energy bundles was amazing, with their spouses jogging along to encourage their hard work.
 
Another highlight of the event came from Ground Zero – the City of Ferozepur, where the samadhi of Shaheed Bhagat Singh sits astride the Sutlej river at the Hussainiwala border. The members of a local NGO Mayank Foundation and the Ferozepur cyclists club collected their efforts, to cycle down to the Samadhi and offered their respects to Shaheed Bhagat Singh. At the monument, they did Yoga,  and raised slogans of 'Inqalaab Zindabad', the slogan which generations associate with Shaheed Bhagat Singh.
During the build up to the event, the message of Bhagat Singh, and knowledge of his life and struggles, was provided to the participants through informative emails. This was done with an aim to acquaint the youth with our freedom fighters heroes, and the principles that they stood for.
 
Specially designed, high quality kits were also made for the occasion, and participants were seen sporting saffron colored Bhagat Singh sports tee shirts, shining silver Bhagat Singh embossed medals and other event accessories. Participation was free of cost, and each participant is being provided with a Participation certificate to commemorate their contribution.
 
Expressing satisfaction at the overwhelming enthusiasm of the participants, Chief organisers Col JS Nagpal, Sanjeev Tyagi and Shweta Maurya promised to hold the event as an annual tribute to the legendary Shaheed Bhagat Singh.