This week on &TV shows, the characters will get entangled in situations. 
Uljhano mein uljhenge &TV ke kirdaar!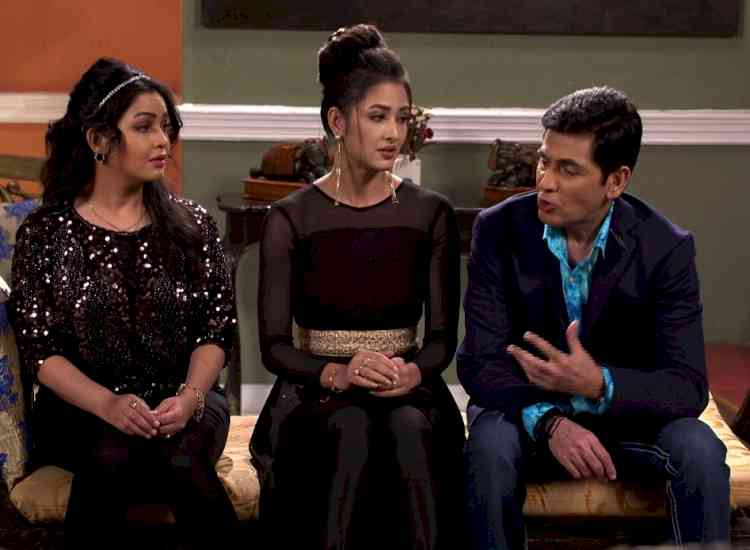 This week on &TV shows, the characters will get entangled in situations.  &TV's Baal Shiv track, Mahasati Anusuya shares, "Mahasati Anusuya (Mouli Ganguly) asks Baal Shiv (Aan Tiwari) to bring a special lotus from the forest for a special Pooja. Baal Shiv travel to Shivling Mountain in search of the lotus. At the same time, Katyayan (Manoj Kolhatkar) leads Devi Katyayani (Trisha Ashish Sarda) to the Shivling mountain, and Vishbhasur informs Taraksur (Kapil Nirmal) that Devi Katyayani is visiting there. Vishbhasur tries to harm Devi Katyayani, on behest of Tarkasur but Baal Shiv's trishool responds to his attack and she gets saved. Devi Katyayani finds a piece of Baal Shiv's Rudraksha. Meanwhile, Taraksur devises a new strategy to assassinate Baal Shiv and Devi Katyayani. Indra and other Devta approach Katyayan and request that he releases Devi Parvati, but he refuses. Then the child form of Mahisasur is introduced." 
&TV's Aur Bhai Kya Chal Raha Hai?, Sakina Mirza shares, "Bittu (Annu Awasthi) invites everyone to his grandson's wedding, where he finds Mirza (Pawan Singh) and Sakina (Akansha Sharma) arguing about how their marriage was not well organized. When they share the details of the disastrous wedding mismanagement with Mishra (Ambrish Bobby) and Shanti (Farhana Fatema), the latter inform about the same to everybody, leaving Mirza upset. Later, Guddu encourages Mirza to re-marry Sakina. As Mirza communicates his thoughts about remarriage to Sakina, Ammi Jaan listens and expresses her concern to Bauji, who is overheard by Shanti, leading to confusion about Mirza marrying someone else. How will Mirza clear up all the misunderstandings?
 
&TV's Happu Ki Ultan Paltan, Rajesh Singh shares, "Happu (Yogesh Tripathi) accepts a bribe from Maganlal to remove a tenant named Vidhyadhar from his residence. Vidhyadhar is (HCR) - Hritik (Aryan Prajapati), Chamchi (Zaara Warsi), and Ranbir's (Somya Azad) teacher. When HCR find Vidhyadhar on the road, they bring it to their house. Happu tells everyone that he is the one who kicked him out of the house, which makes HCR terrified, and everyone assumes that he will fail the exam as a form of revenge. To avoid that, Happu fools Vidhyadhar by dressing Benni (Vishwanath Chatterjee) up as Daroga Happu Singh. However, their plan is revealed later, and Vidhyadhar departs in a rage. How will Happu manage the situation, or will it lead to another chaos?"
&TV's Bhabiji Ghar Par Hai, Anita Bhabi shares, "Chachaji (Anup Upadhyay) take Anita (Vidisha Srivastava) and Vibhuti (Aasif Sheikh) for a treat at an expensive restaurant. In the meantime, Chachaji receives a call and vanishes, leaving Anita to pay the Rs 40,000 bill amount. Anita gets furious at Chacha Ji and plans with Vibhuti to show Chacha Ji the exit door. Both Anita and Vibhuti intend to argue in front of Chachi Ji, and Anita overreacts by demanding a divorce from Vibhuti, making Chacha Ji stay. On the other side, Tiwari's (Rohitashv Gour) foreign return friend flaunts his modern wife's lifestyle and compares her with Angoori (Shubhangi Atre). Tiwari, in jealousy, objects to Angoori's desi attire which she overhears and gets upset. Angoori then, with the help of Amma Ji (Soma Rathod), changes her style and wears a modern dress impressing Tiwari. Later, Vibhuti and Anita plan to put Anita's bracelet in Chacha Ji's pocket and accuse him of stealing it. However, Vibhuti places it in Angoori's western clothing by mistake, and everyone believes Angoori is the thief. How will Angoori prove her innocence?"